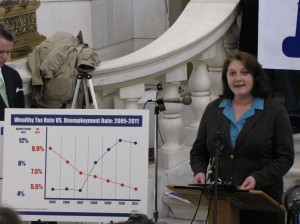 Providence Rep. Maria Cimini has some formidable adversaries to overcome if she's to win reelection. Her opponent Dan McKiernan, is a business-friendly attorney being backed by House Speaker Nick Mattiello and NEARI, the state's largest teachers' union.
But you can help Cimini keep her seat and the progressive State House caucus keep one of its most loyal members by attending a fundraiser for Cimini Monday, 5 p.m. at the Elmhurst Pub (670 Smith St, PVD). See Facebook event here.
Cimini has fought hard for progressive causes during her tenure as a legislator – including leading the charge in the House for the NEARI-backed tax-equity bill that would increase income taxes on the richest Rhode Islanders. She's also been adamantly against using the NECAP test as a high stakes graduation requirement. She drew the ire of Speaker Mattiello when she challenged an amendment in the budget bill that prevented Providence from passing a hotel industry minimum wage. NEARI said it believes McKiernan can be a more effective legislator.