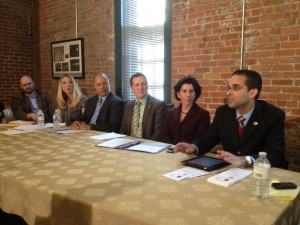 More than 3/4 of Rhode Island wants the General Assembly to reform payday lending, according to a Public Policy Polling survey. And, according to Rep. Frank Ferri, sponsor of a bill that would reign in interest rates on such loans from 260 percent down to 36, so does a vast majority of the legislators.
"Now we just have to convince leadership that it is the right thing to do," Ferri said at a roundtable discussion on the matter Tuesday.
He was joined by Sen Juan Pichardo, the sponsor of the similar bill in the Senate, Providence Mayor Angel Taveras and Treasurer Gina Raimondo, all of whom are adamant that payday lending be stopped.
"It's a predatory product," Raimondo said. "People need to know about the dangers of payday lending so they can take care of themselves. Everyone needs a loan once in a while and you ought to be able to do it in a way that is safe and reliable and doesn't trap you."
Raimondo said she plans to announce soon that she will be reaching out to banks and trying to incentive them to offer an alternative to payday loan shops.
"Soon we will be launching a press for information to all the banks that the state does business with and asking them to tell us about what products like this they do provide," she said, referring to alternative loans to the predatory variety offered at payday loan shops. Once that is completed, she said, "I think you might see us giving a preference to banks that provide those kinds of services for Rhode Islanders."
Payday loans are short-term loans secured by a post-dated check that can carry huge interest rates. Rhode Island is the only state in New England to allow the practice.
The reform proposal, which is opposed by former House Speaker Bill Murphy, has already been heard by both House and Senate committees. Here's a video from the House hearing: