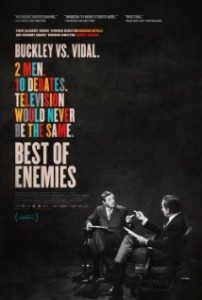 The new documentary BEST OF ENEMIES (dirs. Morgan Neville, Robert Gordon) is one of those films that is both intellectually stimulating and wickedly entertaining, a picture that makes one laugh out loud multiple times while also causing serious thought. Rarely do we see such fare, which is why I highly recommend it.
BEST OF ENEMIES is now playing at the Cable Car Cinema & Cafe.
The film is set in 1968, a year remembered by those who lived it as the beginning of the end of so many great things. Martin Luther King Jr. and Bobby Kennedy were both gunned down, there were riots and protests in the streets, and Lyndon Johnson had scuttled his administration with a Vietnam policy that was described as genocidal by those who knew the truth about our actions in Southeast Asia. And all the while, ABC, the third-place network on television, had decided to try something different in their coverage of the Republican and Democratic National Conventions.
Instead of following the lead of NBC and CBS, with their gavel-to-gavel coverage of the proceedings, they decided to bring in two of the leading intellectuals of the day to engage in a series of brief debates following a montage of highlights from the day's events. On the left was author Gore Vidal, scion of a populist Democratic senator, the creator of such scandalous works as Myra Breckinridge and the screenplay of the X-rated CALIGULA, he was open about his love affairs with men and espoused a libertine worldview combined with liberal politics that generated some of the best American political prose of his generation. To the right was William F. Buckley, Jr., the editor and founder of the hard-right magazine National Review, a man who had taken up conservative politics and transformed a movement of crotchety kooks and racists into the political force that elevated Barry Goldwater and Ronald Reagan to the heights of power while consolidating the Grand Old Party by hacking off the left wing of that political body. Both men were well-spoken, well-born, well-educated intellectuals at the peak of their powers. What followed was an epic, multi-evening intellectual wrestling match, the likes of which had never been seen before on television.
The film is excellent because it functions on two levels. On the first, it is a stellar narrative, retelling one of the most important moments in twentieth century American politics. The 1968 election was the first instance when Americans began to vote based on identity politics issues as opposed to class solidarity, as seen by the successful implementation of Richard Nixon's Southern Strategy that year. It was the first time that dog-whistle politicking took on any sort of real force in the voting booth, with Nixon's repeated harping on about 'law and order' really serving as code for white animus towards the newly-desegregated black population. It was the first election since World War II that the contest for the executive office served as a referendum on an ongoing conflict, a wasteful and stupid war that had none of the support at home or abroad that the Greatest Generation had found two decades before.
And it was also the first time that the political conventions were broadcast in color, bringing me to my second point. Not only is the film a history lesson, it is a love poem to the days of rabbit ear antennas, switching the channel by touching an actual dial, and having only three networks and PBS to watch, within a decade HBO and Ted Turner would begin to develop the early stirrings of what became cable television. This is a film about the way that Americans are told about the news of the day, how it is delivered, and why we think the way we do about these events. It has all the wisdom of a communications class about newsroom production and makes clear what we have lost with the ability to choose from multiple networks that cater to our socio-political whims. As I have said elsewhere, this was perhaps the last election that had some legitimacy to it, now all we have are stage-managed rock concerts with primaries that function in a fashion closer to American Idol.
The film's thesis is an admirable one where the filmmakers argue, rightly, in my view, that this was the place that gave birth, perhaps accidentally, to the yelling-and-screaming format of television news we deal with today, populated by the O'Reillys, the Maddows, and the other hucksters who serve up saccharine-flavored slop we are expected to take for socio-political analysis. I say accidentally because it is quite clear from the start that Buckley was totally oblivious about what to expect from Vidal, who rehearsed his lines backstage, did enormous research on his opponent beforehand, and carried himself as a television star as opposed to a political scientist while in the ring. And I also say accidentally because, had Vidal known what kind of monster he was creating by stage acting the way he did, he might very well have never accepted the invitation to appear. For the rest of his life, Vidal would return again and again to the theme of how ridiculous the American political process had become. He decided to become an expatriate and work from his home in Italy in part because he had no stomach for the crassness, the shallowness, and the buffoonery that essentially defined American politics from 1968 onwards. But he never was able to come to the conclusion that he was partly to blame for getting our civic dialogue to that point.
With another election upon us, it is clear that the electorate is as divided as it was in 1968, if not more so. On the one hand, we have a Republican primary loaded with certified lunatics who are getting upstaged by, of all people, a blithering idiot land developer whose entire career has been based around making financial failure look profitable. The Democrats are no better, insistent on crowning Queen Hillary despite the fact that people would rather vote for a box of cereal than her. The film concludes that Vidal won the battle with Buckley, which is not giving away anything surprising. But what is surprising is that it was Buckley who, in the long term, won the war. We now live in a state of affairs where the Democrats behave like Richard Nixon, pro-choice, pro-union, pro-war, and environmentally-mindful to a degree. By contrast, Vidal, whose politics were populist New Deal Democratic stances, seems like a card-carrying Communist next to an Obama or Clinton. That kind of dramatic irony is something you could describe as made for television.
Movie Review: BEST OF ENEMIES

,