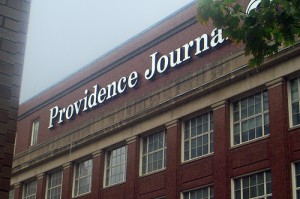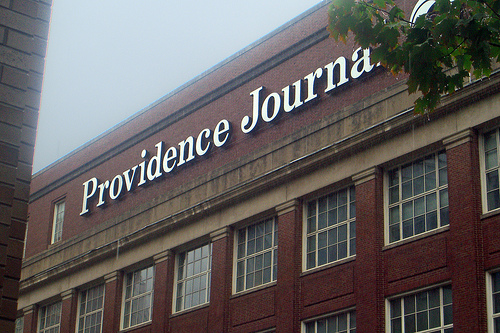 The big local story of the day will be neither the 2012 election or the Son of Sandy, as the Providence Journal cleverly called it this morning … rather it will be the employees of said newspaper who lost their jobs yesterday.
I hear 26 people were let go – 16 union and 10 non-union – in contrast with the Journal's own account which said 23. My information has it that the newsroom lost three editorial assistants, two photo editors, three photographers and the library assistant. That's 9 journalists our paper of record is losing as a result of this decision from Dallas based on how to better serve stockholders rather than Rhode Islanders.
From someone who went through the very same experience almost a year ago to the day (Nov. 4, 2011), you each have my most heartfelt sympathies. And regardless of what you might think of my curent product, I hope you each see RI Future, the project I took on post lay-off, as a bright, bright sign that there are options available where you can continue to do journalism and contribute in a meaningful way to our community. And maybe even eke out a little living!!
It's called independent media, and it's the most important sector of the marketplace for Rhode Islanders to invest their resources and energy if we want to foster a healthy democracy.
I won't lie, it's much more lonely out here than it is in the old-style newsroom. And a year later I still often fear for my financial future. And it might not be for you if you don't like challenging assumptions and trying new things.
But more than anything, I'm extremely optimistic about the opportunities that are out there for us independent journalists in the 21st century.
In several different capacities, I've been preparing to be kicked out of corporate media for years. Seeing the writing on the wall way back in 2003, I taught myself HTML and built my first blog. Four years later, I helped launch the first local news website in the state – My02818 was bought by AOL and we became the only site to be transitioned into a Patch site (EG Patch is still the best community news organization in the state, thanks to the great management of my former colleague – and ironically enough also a former ProJo copy editor – Elizabeth McNamara!!)
Then, of course, I moved over to WPRO to launch their post-Go Local-debacle foray into the digital world. After dramatically increasing their readership, they repaid me by eliminating my job description (on paper anyways, I'm pretty sure Dee DeQuattro has the same job title now).
If it sounds like I'm bitter, I'm not. I never really was. Corporations are out for profits, not news dissemination, and I fully expect smart corporate actors to behave in their best interest. Just like a thief will rob you if he can get away with it, so will a corporation cut you lose if they can make more money without you. I understood that pretty well before being laid off, but I know it really well now!
Here's how Led Zeppelin once put it: "Your brother brought me silver/ Your sister warmed my soul/ But now I laugh and pull so hard/ And see you swinging on the gallows pole."
But let's all hate the game, rather than the players! Belo and Cumulus didn't do anything wrong – they just filled their niche in our community. It's up to consumers and citizens to speak with their dollars and their votes if we want corporate forces kept in check, and journalists to be able to make a living telling everyone what they ought to know about their world.
And more importantly, it's totally awesome and liberating out here. Every single day with RI Future, I get to help define the future of journalism in my home state … that is the opportunity of a lifetime. Many lifetimes, in fact. It's the journalistic opportunity of the millennium, to be precise!
And, besides, all of us are going to have to learn to survive on a little less in this corporate-controlled incarnation of America … and we get to be a pioneers on that front too!!
If any out-of-work journalists – or anyone really – ever wants to talk about how to use the internet and new media to survive outside of the traditional corporate-controlled media market, I'm always more than willing. It's probably my favorite thing to talk about.
In fact, I'll be touching upon this very topic when I participate in one of the panel discussions on the future of news at my alma mater, URI, with ProJo New Media editor Peter Phipps, assuming – and I really do hate to even type this – that he isn't one of the people who lost his job yesterday.
Heartfelt Sympathies to Laid-Off ProJo Employees

,