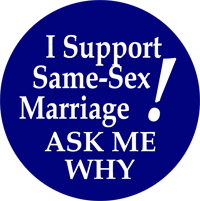 Dear Chairman McCaffrey and Members of the Committee,
I am proud today to offer testimony in support of Senate Bill 38, the marriage equality bill. I urge you to back this historic legislation and affirm Rhode Island's commitment to equal rights.
I am here with my mom, who is one of the thousands of Rhode Islanders who is discriminated against by our current marriage law.  I ask you how you would feel if someone told you that your mother couldn't marry the person she loved? Would you be indignant?
So yes, I am here in great part for selfish motivations. I love my mom, and I want to protect her from harm. I am also here to stand in solidarity with my many gay and lesbian friends, most of whom couldn't be here to speak for themselves. I would be a lesser person if it weren't for their friendship.
If Rhode Island law is determined by my personal whims, the invocations of my mom and friends as reasons to support this bill will sway you in that direction. Alas, I realize I am only one citizen, even if the polls show me in the majority.
Let me add then that my gay and lesbian friends generally have healthier relationships than my heterosexual friends. I am also confident that their love is equal in strength and commitment to the love of my straight friends. Indeed, some of them have already gotten married in other states. I see the joy of those few, and I cannot for the life of me see any rationale for continuing to deny the right to marry to so many Rhode Islanders.
If Rhode Island law is determined by rationality, the fact that same sex relationships are exactly the same as heterosexual relationships in the spirit of love will convince you to support this bill. Sadly, rationality is not the determining factor in the issue of equal marriage.
Marriage is an enshrinement of love which is elementally spiritual, and thus from the very beginning it has been entangled with religion. For better or for worse, rationality has been overshadowed by faith in this policy debate. Consequently, Rhode Island's marriage law institutionalizes the prejudice, intolerance, and discrimination of antiquated religious beliefs.
If only there was some prohibition against mixing church and state, there would be a way around this intractable mess. With that in mind, I'll invoke an ancestor a bit farther removed than my mother, namely Roger Williams. Williams was a devout man, a Baptist minister in fact. Yet, it was he who brought the notion of separation of church and state that the freedom of religion demands to America. It was he who charged us in the Rhode Island Constitution:
"to hold forth a lively experiment that a flourishing civil state may stand and be best maintained with full liberty inreligious concernments; we, therefore, declare that no person shall be compelled to frequent or to support any religious worship, place, or ministry whatever, except in fulfillment of such person's voluntary contract; nor enforced, restrained, molested, or burdened in body or goods; nor disqualified from holding any office; nor otherwise suffer on account of such person's religious belief; and that every person shall be free to worship God according to the dictates of such person's conscience, and to profess and by argument to maintain such person's opinion in matters of religion; and that the same shall in no wise diminish, enlarge, or affect the civil capacity of any person."
I can say with confidence that if he was alive today, Roger Williams would be ashamed of how current law compels Rhode Islanders to support the ministries of some faiths in such a way that it affects the civil capacities of thousands of other citizens.
As an active member of two faith communities that have endorsed same sex marriage, the Quakers and the Unitarian-Universalists, I know first hand that current law violates the practice of my beliefs while it validates the religious practice of others. Therefore, it is unconstitutional, and it should be amended appropriately.
Senate Bill 38 does this. It brings our law back into agreement with our Constitution. Moreover, it recognizes the common sense reality that all love is equal and should be allowed equal expression. Most importantly of course, my mom and my friends will finally have the respect they deserve. The more we abolish the institutions that create lesser classes of people, the greater we will all become.
Please pass this bill, and thank you for your consideration.
Sincerely,
Abel Collins
My Marriage Equality Testimony For Tonight

,