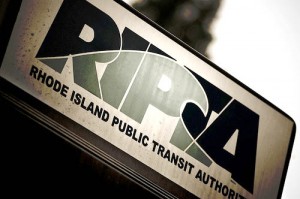 Yesterday I wrote to Gordon Fox, asking him to help defend, not defund RIPTA. This is what I wrote:
I am writing to you because now is not the time to cut funds to RIPTA, now is the time to increase them. I know this sounds counter-intuitive, but a functioning public transportation system is a strength for the community. Portland Oregon has a strong system, and they are better for it.
Please work on behalf of your constituents and all of RI to strengthen, rather than to weaken RIPTA.
This is perhaps the fourth or fifth email I have sent Gordon Fox. For the first time, he answered me:
Thank you very much for writing to me in support of an amendment to the state budget offered by Representative Jay O'Grady regarding funding at DOT and RIPTA.  Although I could not support the amendment this year due to the severe budget constraints, I have pledged to work with Reps. O'Grady, Arthur Handy and Teresa Tanzi in the future to continue our efforts to improve our state's transportation system.

Meanwhile, I was proud to support Article 22 of the budget, which has now been signed into law, which creates a transportation trust fund and provides that incremental increases of transportation-related surcharges will be dedicated to the fund.  It will also reduce DOT's reliance on borrowing and transition us to a pay-as-you-go system.

I appreciate your sentiments, and I thank you again for taking the time to write about this important issue.
The response was of course unsatisfactory, and indicative of the kind of politician Gordon Fox is. It is unsatisfactory because it does nothing to answer Fox's complicity in the cuts RIPTA is planning. The loss of revenues to RI businesses and families will be devastating to our already fragile economy. It is indicative of the way Gordon Fox oprates because he does not take a stand on an issue, he simply pledges to "work with" those who have decided to.
Fox's support for Article 22 of the budget is a rather silly statement. he voted for the budget, so he tacitly supported all the provisions therein. In owning the one small part of the budget that will give some of the funds from the Registry of Motor Vehicles to the DOT and RIPTA, he hopes to artificially inflate his support in the public's eyes.
There's a curious thing about Article 22. Under it, 20% of the monies collected in 2012 by the Registry of Motor Vehicles will go towards the "Intermodal Surface Transportation Fund" and this figure will increase each year by 20% until all collected monies are so directed. Fair enough. But this year we also passed the Voter ID bill, so we can expect that, under the increased onus of free IDs, revenues from the Registry will go down. After all, free means more people, longer lines, and less monies collected.