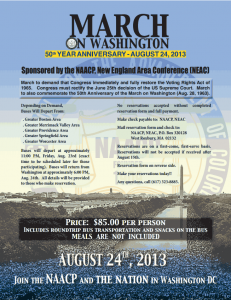 It was 50 years ago this summer that Rev. Martin Luther King Jr. reinvigorated America's sense of enduring betterment with his game-changing "I have a dream" speech and you can be there for the anniversary in Washington DC with – not only President Barack Obama – but also your sisters and brothers of the NAACP Providence Branch and others in the Ocean State progressive movement.
The NAACP is sponsoring a bus trip, and inviting the greater progressive community, to the anniversary celebration of Dr. King's inspirational speech on the Mall in the nation's capitol.
"The COST per person is $50 FOR 50 YEARS!!" said Jim Vincent, chapter executive director in an email. "The true cost is $85 per person but the NAACP Providence Branch will be subsidizing each person who travels wit us on this historic occasion!! IT'S THAT IMPORTANT!!!"
For more information, email Nancy St. Germain at nstgermain3@verizon.net.
The bus leaves from the Stop and Shop on Branch Avenue in Providence on Friday, August 23 at 11 pm and returns Saturday at approximately 6 pm.
Just in case you need a refresher on how truly powerful King's speech was, here it is in full: