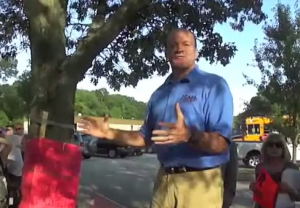 Larry Purtill, president of the NEA-RI, issued a statement about the possibility of a labor strike at North Kingstown public schools if the School Committee there declines to nullify a contract with a private company that resulted in the 26 custodians being outsourced and getting an average salary cut of $13,000.
Here's his statement:
The superintendent and school committee need to only look in the mirror for someone to blame if school doesn't start on time. They need to rein in their actions, put a stop to their unfair labor practices, and deal with their responsibilities to SEIU. They are out of control and need to put the welfare of the district before their personal political agendas.

Ironically, the contract with GCA doesn't save the district any appreciable amount of money more than the arbitration award did, and yet they chose to upheave the personal lives of their loyal employees and disrupt the entire town by their irrational behavior.
And here's the full press release from the NEA-RI
What has been festering all summer between North Kingstown custodians and the school district is threatening to boil over at this Tuesday's school committee meeting. The committee's rejection of an arbitration award and subsequent firing of 26 workers in favor of privatizing has incited more than one local labor union.

The NK Education Support Professionals (NK ESP) and its parent union the National Education Association Rhode Island (NEARI) sought court intervention to stop the move as soon as the firings occurred last June. This suit is currently under appeal. Meanwhile, information gathered about the private contractor – GCA Services – indicates a spotty past in other districts around the country. (See www.roundhouseleft.com for details.) Despite mounting evidence against the company's practices, the Committee continued to move forward with its plan.

At last Tuesday's (August 21) School Committee session, residents and union members stood up and spoke out against privatizing. The following day, North Kingstown Superintendent Phil Auger took the local NK ESP president behind closed doors and upbraided her for those comments, prompting the union to file an unfair labor practice charge against him.

Learning of the charge, Vice Committee Chair Dick Welch told the union leadership the next day that he would not support any agreement reached unless "the union withdrew the unfair labor practice charge." Welch's conduct is itself an unfair labor practice. The union filed that additional charge Friday, August 23.

In response, Superintendent Auger has emailed parents warning of a possible job action Tuesday that could interfere with the on-time opening of schools.

Another statewide union has reason to protest. GCA Services has a regional agreement with the Service Employees International Union (SEIU), which has complained that GCA ignored its contractual obligations in the North Kingstown situation. Auger and the school committee have not addressed the potential action that SEIU may consider taking on its own against this company. Either way, should the parties appeal to the courts, jurisdiction now resides in private sector law since it involves a private company, and would likely not end up in the Rhode Island judicial system.

NEARI President Larry Purtill said, "The superintendent and school committee need to only look in the mirror for someone to blame if school doesn't start on time. They need to rein in their actions, put a stop to their unfair labor practices, and deal with their responsibilities to SEIU. They are out of control and need to put the welfare of the district before their personal political agendas.

"Ironically, the contract with GCA doesn't save the district any appreciable amount of money more than the arbitration award did, and yet they chose to upheave the personal lives of their loyal employees and disrupt the entire town by their irrational behavior."