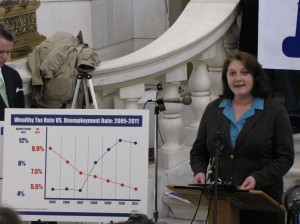 Liberal legislator Maria Cimini, who represents the Mt. Pleasant and Elmhurst areas of Providence, is being opposed in her bid for reelection not only by House Speaker Nick Mattiello but also by NEARI, the state's largest teachers' union.
"Our PAC committee determined her opponent, who strongly supports our issues, would have a greater impact on those issues in the legislature," said NEARI President Larry Purtill. "Difficult decision but one we felt was in best interest of our members which is how I believe we should be making decisions."
In the Democratic primary for House District 7, NEARI is backing Dan McKiernan, a lawyer in private practice.
Cimini administers the state SNAP program as a research associate at the University of Rhode Island, and as such she is dues-paying member of the NEA. More importantly, she says, she worked towards teacher-friendly education reforms as a legislator.
"I've been extraordinarily proud to support and champion issues related to supporting educators, administrators and students," she said. "I've been proactive in researching issues of high stakes testing and teacher evaluations, I've been vocal in my opposition to some policies as well as supportive of reforms promoted by the NEA."
She added, "I'm disappointed that as an ardent union supporter in my personal life and my professional and political career that the NEA has chosen to support my opponent."
Mark Gray, president of the Young Democrats of Rhode Island, took issue with the endorsement.
"We have great respect for the members of NEA and their continued advocacy for children in our state, but we disagree with the NEA endorsement in House District 7," he said. "Representative Cimini is a champion for Rhode Island workers—NEA members included.  Last year, she successfully argued for over $12 million to be returned to the state budget to ensure we met our commitment to the pension fund for workers.  She has consistently advocated for fully funding school districts and for ending the malpractice of high-stakes testing. Finally, she's been a fearless advocate of our state's most disadvantaged people: those who can't afford child care, housing, or food for their own families.  We feel that the interests of teachers, students, and young Rhode Islanders have been well represented by real Democrats like Maria Cimini."
McKiernan could not be reached for comment. (I'll update this post if I hear from him)
Both candidates address education on their campaign websites.
McKiernan says on his website:
"I will focus on the economy because it impacts ALL of us.  A down economy makes it hard for those in private enterprise to make a living. It reduces tax revenues, stressing those who work for the government.  This makes it harder for the government to fund other activities, including educational and social welfare programs.  A down economy hurts all of us."
All young people are deserving of a high quality education that prepares them to be successful in the workforce, in the community, and in life. Schools have a responsibility to develop the next generation of leaders, not test takers. Rhode Island needs a statewide school funding formula to ensure that all children have equitable access to high quality education.  Schools must support young people not only academically but also by being safe places for social emotional growth both during the school day and after school time. 

Legislative Impact

Increased higher education funding by $4 million
Serves on the Commission to Study the Affordability and Accessibility of Public Higher Education in Rhode Island
Co-sponsored the Safe Schools Act to direct RIDE to create and implement statewide policy on cyberbullying prevention
Passed legislation to create the RI Family Engagement Advisory Council.  The Council, composed of teachers, parents and administrators, will make recommendations on developing policies to make families more active in the life of their children's schools