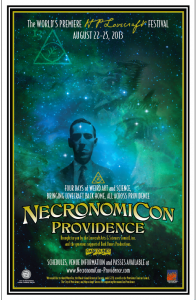 Dr Stanley Lemons, the church historian for the First Baptist Church in America on 75 North Main St. here in Providence, Rhode Island opened the NecronomiCon with a short yet fascinating talk about H.P. Lovecraft and his relationship with the church.
Dr. Lemons told of a young Lovecraft, who, "Hated this church, but… loved this building."
Clarifying, Lemons explained that Lovecraft had decided to quit the church by age five and had become an atheist by age eight. That's right, Rhode Island, this weekend we are celebrating the accomplishments of one of Rhode Island's leading atheists.
Of course, Lovecraft's atheism is somewhat nihilistic and existential, a far cry from some of the more optimistic and Humanistic atheism I might champion. Still the government Roger Williams established here 350 years ago helped guarantee freedom of and freedom from religion for all shades of belief and non-belief.
You can view Lemons full talk below, followed S.T. Joshi's keynote address in which he talks about the long and tortured history of Lovecraft's literary reputation. In the middle of Joshi's speech is the surprise appearance of Lovecraft's ghost, banging out "Yes, We Have no Bananas" on the church organ.
This is going to be a fun weekend.
NecronomiCon Keynote Address: Lovecraft was an atheist

,