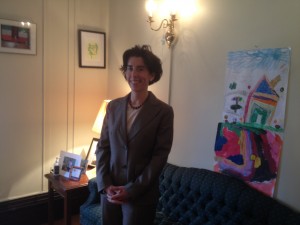 A Smith Hill pol is using the people's hard-earned money to hire an under-qualified, overpaid staffer.
While this might read like the beginning of every single column Ed Achorn writes about the State House, he probably won't be waxing eloquent on this one. He only spouts off when a union-centric Democrat commits such a transgression. When it's Gina Raimondo, a Wall Street-centric Democrat, he'd rather write about the Beatles.
Not Ken Block, though … he might be campaigning himself in calling Raimondo out, but he's right to do so. The General Treasurer's office should not be staffed by Gina Raimondo's political operatives.
"If this person has no relevant experience for running the treasurer's office and is there mainly as a campaign manager then that person's salary should not be at taxpayer expense," he told WPRI's Dan McGowan last week.
Ed Fitzpatrick reprised McGowan's post in today's ProJo, and made it pretty painfully obvious that Raimondo has hired Ed Roos to run her campaign.
Now perhaps Raimondo hired Roos because he studied philosophy at Brown University and published an article in a peer-reviewed journal about "a problem with self-reference and subjective experience." Or maybe it's because Roos has been working in D.C. in Google's "elections and issue advocacy" division.

But a quick Google search shows Roos also was campaign manager for Democrat Myrth York's unsuccessful bid for Rhode Island governor in 2002, he managed Delaware Gov. Jack Markell's successful 2008 campaign, and he has worked on gubernatorial campaigns in Iowa, Indiana and Virginia.

So you don't need a peer-reviewed journal to tell you that campaign experience might have had something to do with his hiring.
I don't at all dislike Gina Raimondo, but I despise the way she is so often given a break by the local media. If a less fiscally conservative candidate pulled this stunt, the sharks would be circling. If a labor-backed candidate did this, Achorn and et al would be calling for blood in the streets.
To put it bluntly, she is effectively misappropriating public money to help her get a promotion. In other words, she is stealing from the taxpayers for personal gain.
I don't believe she set out to do this – in fact, I have every reason to believe that in theory Gina Raimondo despises such thievery. But I do believe she is so ultra-ambitious that she lost sight of the fact that she is laundering electoral activity through public sector pay checks.
New Treasurer Staffer Looks Like A Campaign Operative

,