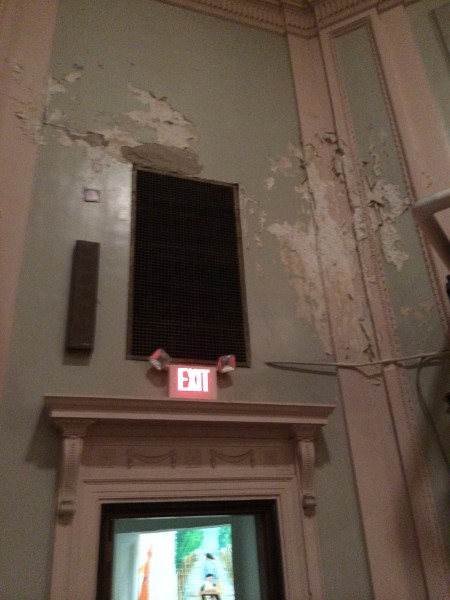 The decaying school buildings in Providence are a monument to the abject failure of Rhode Island's political leadership to invest in all the people of the state.
The legislature is willing to spend more than $40 million on a parking garage for lawyers and court employees downtown but not for public school kids in the North or West ends of the city.
Mold and asbestos can be seen on the walls of Gilbert Stuart Middle School. At Roger Williams Middle School, as of a year ago, students couldn't drink from the bubbler. Esek Hopkins Middle School in the North End is ranked as a "Level 3" building – meaning it is in "fair to poor condition," needing "moderate to major renovations." Two of the newer buildings- Del Sesto and Alvarez – are built on formerly toxic industrial sites subject to intense monitoring.
"I think it is immoral we are asking children to enter these buildings," said Republican candidate Dan Harrop during his mayoral campaign.
"Ordinary people who harm children are punished by courts and despised by society, while politicians who harm children by ignoring the inequalities in public schools are not held accountable for their actions (or lack thereof)," wrote Aaron Carpenter recently on this blog.
And Aaron Apps wrote, "There is a kind of slow, horrible violence being done against the students and teachers expected to occupy these buildings."
Other states don't do this to their children.
For several years I taught in Fall River, MA. I worked in a modern school building barely five years old. In fact, many of the elementary and middle schools in the city, one of the poorest in the state of Massachusetts, are barely a decade old, thanks to a massive investment in school infrastructure and equipment by the state.
I live in California now, and what I've seen with public schools here just breaks my heart. Not for California, but for Rhode Island. (There are plenty of challenges and needs…plenty of people working for positive change.) I've seen "dilapidated" schools in Oakland, CA which look pretty great compared to some of what we have in Providence. There are district schools in East Oakland, one of the poorest neighborhoods in the Bay Area, which have skylights and modern computers. There is a community college in Hayward, CA with solar panels above the parking lot.
A tangible way to increase jobs, make a long term investment, and brighten the day of children and families is to renovate and re-invest in our schools. The money is there, we just need the will to do so. Maybe this year we will.
Gina Raimondo, Nick Mattiello, Teresa Paiva-Weed and Jorge Elorza have a chance to be the governor, speaker, senate president and mayor who rebuilt Rhode Island's schools. Sounds like good politics, and actually good for the people.
My wish for the New Year is that Rhode Island muster the political class and economic sense to treat every child like their own.