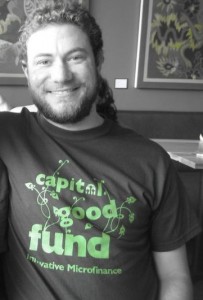 Andy Posner is the Executive Director of The Capital Good Fund.  He'll be honored as one of the New Leaders Council's Class of 2013 40 Under 40 at an event on Saturday night.
Capital Good is a non-profit microfinance organization that targets root causes of poverty through innovative microloans and personal financial coaching. By providing low-income Americans with small loans and the knowledge of how to use them, Capital Good Fund strives to empower them to improve their lives and better their communities.
As a co-founder of the Capital Good Fund, Andy developed a model for innovative microfinance as a Master's student at Brown University. He traveled to Bangladesh to receive training from Nobel Peace Prize Winner Muhammad Yunus and was inspired to use microfinance as a tool for fighting poverty back at home. Andy's work has been mentioned in Providence Business News, the Providence Journal, the Providence Phoenix, the Federal Reserve Bank of Boston's magazine, Rhode Island Monthly, and right here on RI Future.  He has also presented his ideas to Consumer Financial Protection Bureau founder Elizabeth Warren and Rhode Island Treasurer Gina Raimondo.
Andy is a co-founder of the Campus Microfinance Alliance and a member of its advisory committee, and is a member of the national board of directors of the Association for Enterprise Opportunity. Andy's ideas have been published in the Huffington Post, treehugger.com and the Stanford Social Innovation Review.  He is also a blogger, a poet, a cyclist — and once trained to be a professional tennis player.