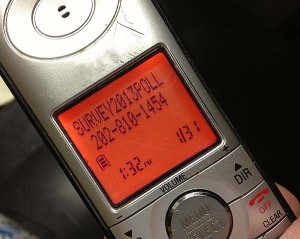 This afternoon, at least one residence in Portsmouth received a robo poll that identified itself as being from Chris Plante and the National Organization for Marriage. With the recent vote in the RI House, the message began, the focus has "shifted to the Senate, where it's on a knife's edge."
Then came the poll: "Do you believe marriage should be between a man and a woman?" The system was unable to process the answer that this reporter provided, and the call terminated, with the usual disclaimer that this was not paid for by any candidate, etc.
This was the second time they called. Back on January 11, they asked the same "man and a woman" question, and that time, I made it through the screen and they asked for gender, and posed an oddly specific question: "Are you over 50?" That time, the phone number identified itself as 401 228 7602 but Caller ID showed it coming from 202 810 1454.
Everyone in *this* house supports full marriage equality, so they must be working off lists from when my parents owned the house.