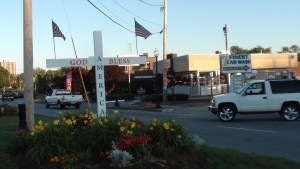 Peter Montequila, the owner of Finest Car Wash has stated a variety of reasons for having erected a cross on a publicly owned median strip on Pleasant Valley Parkway in Providence. According to one story the cross was built because the Fourth of July (or Memorial Day) was coming up. Montequila also claims he placed the religious symbol there to demonstrate solidarity with those who want the war memorial topped with a cross in Woonsocket to stay on public land. On the other hand, perhaps Montequila feels entitled to act as he did, having maintained the median by mowing the lawn, installing a sprinkler system, and planting flowers as part of what appears to be a city sponsored adopt-a-spot program. Still another reason for the cross, according to the owner, is that he seeks to honor veterans.
Of course, it's not possible to honor all veterans by erecting a religious symbol particular to only some of them. How could a Christian cross possibly honor a Jewish, Muslim, Buddhist or atheist veteran? Let's be honest here: Peter Montequila only wants to honor Christian veterans with this cross, and more particularly, he only seeks to honor the tiny subset of Christian veterans who agree with him about the irrelevance of the First Amendment and the Constitution of the United States.
Read this quote from Montequila on 630WPRO:
an answer to atheist, and I'll be quite honest with you I don't really want them for my customers, let them go to an atheist car wash or an atheist gas station, we want customers that feel the way we do. [emphasis added]
What if you don't feel the way Montequila does?
If it really offends them, you know what? Don't drive down the street, or move someplace else or get out of the state, that's how I feel.
The use of religious symbols to differentiate between us and them, those in our group and those outside our group, is a very natural human urge. When these symbols are used in a way that respects diversity of opinion and the rights of all citizens, then the lively experiment that is Rhode Island pays huge dividends in freedom of conscience and safety for minority opinions. But when these symbols are used to mark the territory of a putative majority interested in marginalizing those with differing opinions, the effect is to bully at best, and to terrorize at worst.
A cross has long been the symbol of hope and devotion to millions of people throughout history and throughout the world, but it has also been used as a symbol of persecution and conquest. Like the use of any symbol or word, the exact meaning of the cross depends on its context. For instance, compare a cross placed in the Basilica of Rome as opposed to one burning on the front lawn of a black family in the 1930's.
The cross in Providence is a poor attempt at honoring veterans, as it only honors Christian veterans. It is a poor attempt at promoting Christianity because Montequila is only interested in promoting a particular brand of Christianity, one that seeks to blend church and state despite our Constitutional protections against such mixing. There are many kinds of Christianity, and many who identify themselves as Christian believe that a cross has no place on public land.
But the cross on the Pleasant Valley Parkway median in Providence is very good at promoting one message. And that message is this:
If you don't believe in our particular kind of God, we don't want you in Providence.
The fact that Mayor Angel Taveras has decided not to ask for the removal of the cross seems to indicate tacit governmental support for this message, much to the disappointment of those who take church/state separation seriously.
Unfortunately for Peter Montequila, non-Christians, including atheists and humanists, are not going anywhere. Instead, we'll be sticking around and insisting that the government stay neutral in matters of religion by not allowing public land to be co-opted by those with a theocratic, anti-American agenda. Being a minority, our point of view won't always be popular, but it will always be necessary. There isn't, after all, one religious point of view today represented among the population of Rhode Island that wasn't once held by a minority itself.
Are Non-Christians Not Welcome in Providence?

,