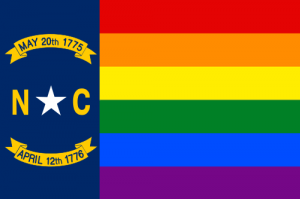 So Amendment One in North Carolina passed via voter referendum, and it passed overwhelmingly. Simply put, Amendment One criminalizes love.
Not only does it add a ban on the rights of homosexuals to marry (already illegal in North Carolina) to their state constitution, it bans the existence of civil unions between even straight couples. It passed overwhelmingly, 61% in favor to 39% against. Many voters didn't even know it would impact civil unions.
Having lived in North Carolina for a reasonable amount of time, I can say there are truly people there who have no great love for this amendment. I think it's fair to say that many hate it. Americans around the country are rightly reviled that such a thing could be written into law. But many others are rejoicing. The last state of the Old Confederacy has been redeemed.
We are often wrongly taught history in themes; we see the United States as possessing the theme of freedom; that at key points in our history (1776, 1862, 1919, 1964) we have pressed for freedom. Not only is this reductive, it is wrong. We must take this time to remind ourselves that the history of this nation is not an unstoppable march to freedom, but a titanic and bloody struggle that we must find the strength to fight. Just as there were no guarantees of victory in 1776, there are no guarantees that tomorrow is brighter than today. It is up to us to carry the fight forward.
For those of us who live outside of North Carolina, we must take this moment to take stock of our own struggle, the struggle to legalize love. The anger we feel at the 61% of North Carolinians who voted for this abominable amendment should be harnessed and directed towards our efforts in our own states. Around the country, there is still much work to be done.
One thing that irks me here is the discussion of the sanctity of marriage. My family hails from various parts of New England, and I am partly descended from Puritan Yankee stock. And ironically, for the Puritans, who are known as the most religious of the English settlers, marriage was not particularly sanctified. Most Puritans were married by the magistrate, not by a minister. It was a contract between two adults recognized by the community; and indeed, in many ways, this has been written into law. Marriage is a contract.
And this where the "sanctity of marriage" argument falls apart for me (though admittedly it was always weak to me as an atheist). If you get married in a chapel, your marriage isn't real unless there's a representative of the state to hand you a marriage certificate. It's not the priest who marries you, it's the state. Marriage is a state institution. And for a state to hand out preferential rights on the basis of declared sexual orientation; well it doesn't make much sense to me. To the state, what difference does it make?
The idea that marriage can be gay or straight makes about as much sense as the building of the State House being gay or straight. It makes as much sense as declaring that sidewalks are gay or straight. Or declaring the entire institution of government to be gay or straight. It knows no sexual orientation. It knows no religious denomination. It cannot worship. It cannot love. It cannot cry out in despair.
North Carolina's Amendment One could be one of two things. It could be a supernova of intolerance; burning brightly at its end. Or it could be the beginning of a turning backwards. Record numbers of Americans support the rights of their fellow Americans to marry, regardless of sexual orientation. But there are no guarantees in history. If we want something, we must strive for it.
North Carolina Votes for Marriage Inequality

,