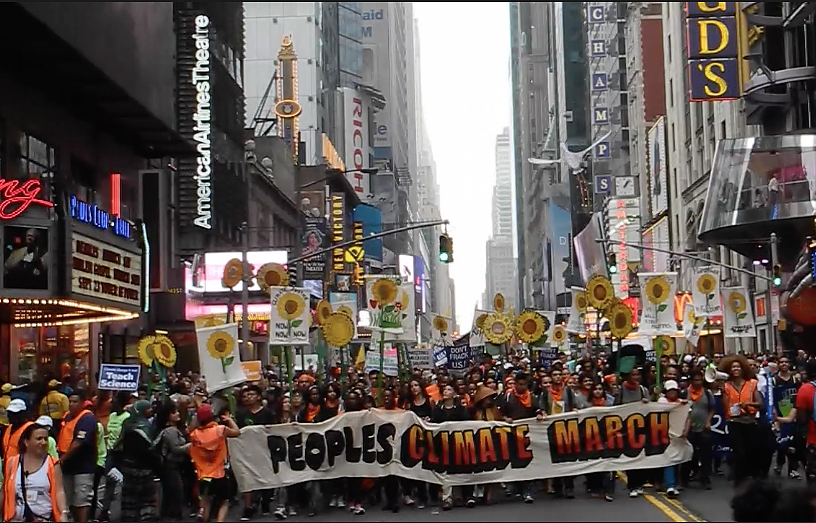 Four solid miles of people — 400,000, according to organizers — marched through the heart of New York City to show that climate change is no longer an abstract threat, and to demand action from national and international leaders.
They carried signs and banners, made music, rode bicycles, pushed kids in strollers, and made noise in a line so long that when lead contingent arrived at 34th Street and 11th Avenue, the tail of the march had just begun to move from 86th Street and Central Park West. It made the usual crush of people in Midtown Manhattan seem sparse by comparison. Imagine roughly half of the people in the state of Rhode Island marching together.
There were plenty of Rhode Islanders there, including a half-dozen busses with folks from groups including the RI Sierra Club, Fossil Free RI, the RI Progressive Democrats of America, the Humanists of RI. Sen. Sheldon Whitehouse was in the march, we spotted him as he stopped to talk with students from Brown and URI.
The march was timed to coincide with Tuesday's UN Climate Summit, which aims to build international support for action before the next round of climate talks, and in an unusual move, Secretary General Ban Ki Moon himself joined the marchers. RI Future caught up with former Vice-President Al Gore, and he expressed his hopes for action at the Summit.
The People's Climate March was grouped into six sections, who each had a several-block stretch of Central Park West where they began marshaling early this morning. The weather had been predicted hot, but an overnight rain left the streets cool and damp when people began assembling around 8am. Leading the march at Columbus Circle (an irony acknowledged by the organizers) were the people on the "Frontlines of Crisis" — indigenous people, climate justice groups, and impacted communities. Next was "We can build the future," comprising labor, families, students, and elders. Following them was the "We have solutions group," with renewable energy people, food and water justice groups, and environmental organizations. Then came "we know who is responsible," with anti-corporate campaigns, peace & justice groups, and others. After them — and we were up to 81st street now — was "The debate is over," featuring scientists and interfaith organizations. Finally, the last group, "To change everything, we need everyone," included NY boroughs, community groups, neighborhoods, other cities, states, and countries.
Each section had its own floats, banners, and themed signs, and each began the morning with a mini-rally at the head of their staging area. Not only was the street packed, solid, for those twenty blocks, but the sidewalks on both sides and slowed to a crawl as people moved up and down the line to find their contingent.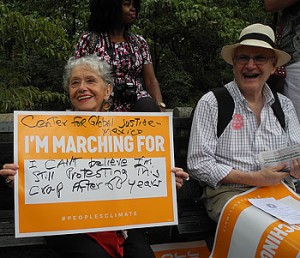 The tone, energized and upbeat throughout was notable. There was definitely plenty of anger — at corporations, at international leaders, at the system — but from the youth contingent near the front enthusiastically chanting "This is what democracy looks like" to the many folks who had clearly been at this for a while, there was a positive energy.
Sallie Latch, with the group globaljusticecenter.org, held a sign on 81st Street saying "I can't believe I'm protesting this crap after 60 years." Smiling, she told RI Future, "More than 60 years. We need to do something. We can't wait for our politicians and corporations. This is about system change, not climate change."
Although the march stepped off on time, it still took hours for those in the final groups to begin to move, as the line snaked across 59th Street, down 6th Ave, then across 42nd to 11th Avenue, where they headed south to a post-march celebration/block party between 34th and 37th. This reporter had walked north along the entire staging area to get a sense of the groups (see the photos on Flickr) and was able to catch the subway and get to Times Square in time to meet the frontline group headed West on 42nd Street.
The final marchers made their way along the west side about six hours after the event began. This reporter grew up in NY, and cannot recall seeing anything with this scale since the anti-nuclear protest back in 1982.