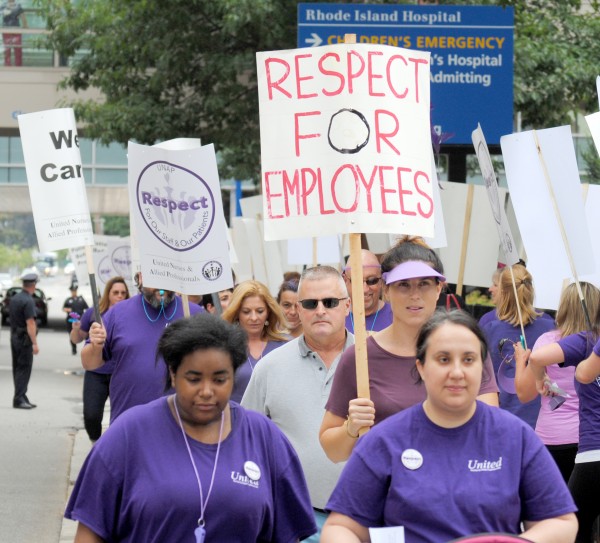 The corners of Eddy and Dudley streets were lost in a blur of purple as more than 400 nurses and other professionals working at Rhode Island Hospital picketed for higher wages, retirement benefits, and more staff.
The United Nurses and Allied Professionals (UNAP) Local 5098, shared its concerns about the unwillingness to effectively staff the hospital, while Lifespan continues to pay its executives millions of dollars a year.
"With healthcare reform going the way it is going right now, staffing has become a major issue," said Lee Meyers, a registered nurse who has worked for the hospital for 25 years. "We work on the floors, and it's getting to be with a skeleton crew. We need to have plenty of staff to take care of the very sick people that we are getting now, because people don't go to the emergency room like they used to."
"We take care of seven, eight patients that are really intensive care unit type patients," she said. "That is causing us to burn out quicker, it's too much handle."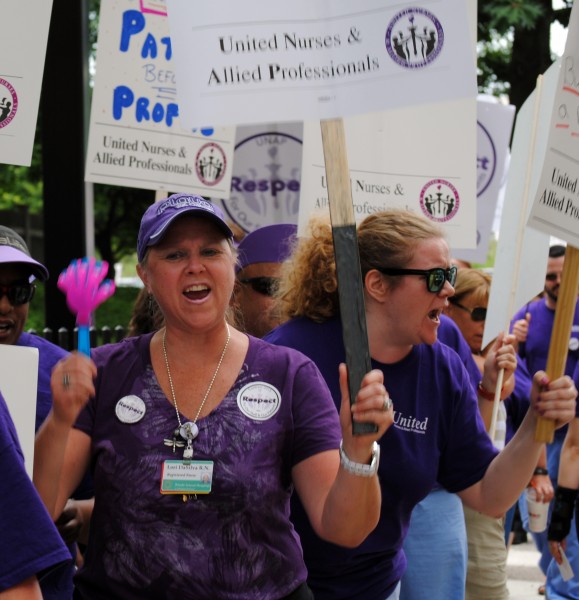 Debra Page, another registered nurse who has been working for just under four years, shared the sentiment.
"It's on every level," she said of the staffing problems. "Its from the minute you walk into the hospital to the minute you leave. You don't get taken care of as soon as you walk in because we don't have staff, you don't get the care you deserve on the floor, I don't have the time to hold my patient's hand if their family's not able to be there when they're dying. I want to be able to be there and take care of that patient, and I don't have the time to do that."
Hospital staff also remarked on how much the climate has changed. Bernadette Means-Tavares is a pediatric nurse, but has also had experience on the patient end. When her daughter was an infant, she spent the first six months of her life at Hasbro, and there's a huge difference between care now, and care back then.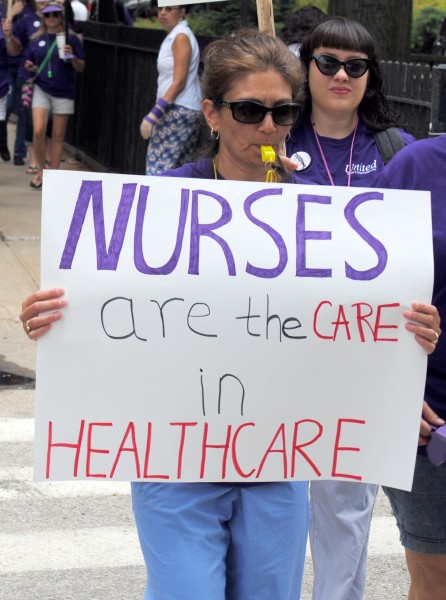 "[The care she received] is being given, but it's being given under a lot of stress and restraints. What she got, there's no comparison to what you're getting now, what we're giving now," she said.
Short staffing isn't the only issue that UNAP is fighting against, though. In a press release sent out Tuesday, the group revealed that Lifespan not only keeps their hospitals at minimal staff, but is also attempting to cut employee compensation in the new contract that will be drawn up this year.
"Lifespan is seeking to cut its contribution to the retirement security of union employees- a move which would result in the loss of thousands of dollars to a member's retirement," the release said. "The hospital wants to make dramatic changes to the union's health coverage, and is proposing a pay freeze until July 2016."
Lifespan's top five executives and officers were paid more than $12 million in 2012, according to the most recent available IRS 990 filings. Helene Macedo, President of UNAP Local 5098 finds these conditions to be inappropriate.
"For years, frontline caregivers have been asked to do more with less while the hospital spent lavishly on high-priced public relations campaigns; millions in salaries for top executives, and on other misplaced priorities," she said. "It's time for Lifespan to stop shortchanging healthcare professionals and invest in patient care again."
Page added that Lifespan has tried to take away many of their rights as employees.
"For the hard work that we do, not only do they want to freeze our pay, not do any sort of cost of living increases, and actually take away benefits from us, including the fact that we have not had a matched 401k in quite so many years," she said. "They want to limit our healthcare, where we get to get our healthcare, a lot of things that for one of the larger employers in the state, it doesn't look good for them."
The union has agreed to continue negotiations with Lifespan throughout July, but the negotiating committee has been given the authorization to deliver a ten-day strike notice if they cannot reach an agreement.