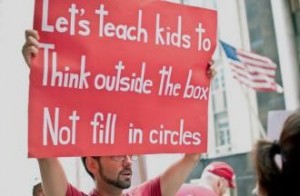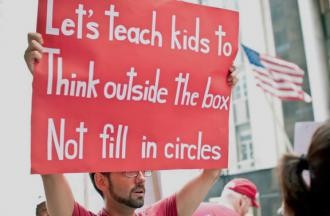 As the Board of Education readies to reconsider RIDE's reliance on the NECAP test as a graduation requirement, The New York Times weighs in with some much-needed nuance on the national controversy erupting over using high-stakes tests as a means of improving public education.
"In other words," concludes the editorial, "the country needs to reconsider its obsession with testing, which can make education worse, not better."
In several sections, it's as if The Times is directly mimicking the criticism the the local left has lobbed at the high stakes testing in general, and the NECAP test in particular. To wit:
"…it has become clear to us over time that testing was being overemphasized — and misused — in schools that were substituting test preparation for instruction."
"That the real tests were weak, and did not gauge the skills students needed to succeed, made matters worse. Unfortunately, most states did not invest in rigorous, high-quality exams with open-ended essay questions that test reasoning skill. Rather, they opted for cheap, multiple-choice tests of marginal value."
This paragraph in particular seems as if it was written about what has happened in Rhode Island as we've chased Race to the Top money perhaps at the expense of high quality education:
"The government went further in the testing direction through its competitive grant program, known as Race to the Top, and a waiver program related to No Child Left Behind, both of which pushed the states to create teacher evaluation systems that take student test data into account. Test scores should figure in evaluations, but the measures have to be fair, properly calibrated and statistically valid — all of which means that these evaluation systems cannot be rushed into service before they are ready."
The Board of Education meets Monday, 5:30 pm at Rhode Island College and progressive education activists are expected to be there asking board members to reconsider using the NECAP test as a high stakes graduation requirement.