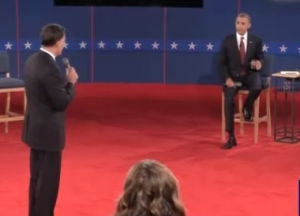 One of the really weird things about how we pick our president is the skill set it takes to get the gig has almost nothing to do with actually doing the job. No part of POTUS politics proves this more than the debates. Still, as the first debate showed in subsequent polls, they matter. The second debate will matter too, and Romney did as bad this time as Obama did the first time around.
The reason the result was so different in the second debate can be encapsulated in this line from the president: "It's just not true."
Romney tried in a second consecutive debate to mislead the electorate about his agenda if elected, saying he wants to protect the middle class. This time Obama called him out on it.
"Governor Romney doesn't have a five-point plan," the president said. "He has a one-point plan: that plan is that folks at the top play by a different set of rules."
While Obama did well with traditional debate zingers like that one, Romney did himself no favors. He was testy and belligerent – two qualities not often confused with being presidential.
His worst moment of the night was no doubt when Candy Crowley had to step in and settle the dispute over when Obama first called the deaths in Banghazi a terrorist attack.
But my personal favorite was when he explained how difficult it was to find a female to name to his cabinet, and thought that would make voters think he understands how women have it worse in the workforce.