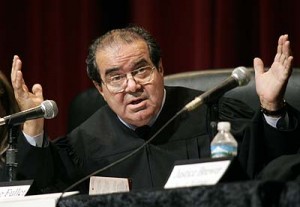 Antonin Scalia observes in court that the government cannot compel a citizen to purchase broccoli, and the government's lawyers are Struck Dumb. They clearly do not spend time in my local pub. Every week some bonehead appears there with the "broccoli" canard. And there is a simple answer to that stupid assertion:
The government can bomb Pakistan with drones; the government can declare one man the property of another; the government can intern Japanese citizens; the government can declare a corporation a citizen; the government can tax your income at 99 cents on the dollar; the government can make it OK to shoot unarmed strangers in your neighborhood; the government can declare who is President without regard to the popular vote or to the Constitution.
Yes, Antonin. The government can make you buy broccoli.
I practice law in the trenches with ordinary people for clients. Ask them what the government can make you do. You have to be willfully blind to think our government lacks the power to make you buy broccoli. Willful blindness can, of course, be useful to a Supreme Court justice.
This is how John Locke describes government: Government is the power of coercion, up to death, to compel citizens to act for the common good (2nd Treatise of Civil Government, §3). Your "freedom" is the freedom to elect the government that coerces you—a government for the people or a government for the privileged. That is the beginning and end of your freedom, Judge Scalia.
Obamacare, Broccoli and the Supreme Court

,