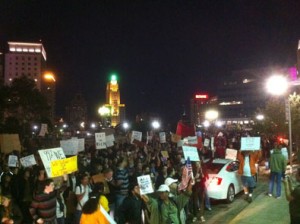 Occupy Providence returns to the State House Tuesday, this time to show solidarity for the Miller-Cimini income tax equity bill that is being heard by the powerful House Finance Committee at around 5 p.m. The rally will begin at 4:45.
The bill would raise income taxes on the richest Rhode Islanders, those who earn more than $250,000, back to 9.9 percent, the rate paid by those who made more than $100,000 when former Gov. Don Carcieri and the General Assembly lowered them to 5.9 percent. The bill would drop the rate one percentage point for every percentage point the unemployment rate drops.
This Tuesday, April 24, Occupy Providence (OP) will hold a "Tax the Rich" march at the State House. Occupy Providence's "Robin Hood" Merry Band of Protesters will march to the King's court (the RI State House) to oppose the policy of giving income tax breaks to the rich and soaking the poor and middle class with regressive taxes like real estate and sales tax.

WHO: Occupy Providence in Robin Hood costumes, along with other groups supporting the same cause.

WHAT: "Robin Hood" March – OP's Merry People demand tax justice

WHEN: 4:45pm April 24, this Tuesday

WHERE: The start of the march is at the State House lawn, corner of Gaspee and Francis St.  The march will end inside the State House. Also, some Occupy Providence members will be participating vigorously in the House Finance Committee hearing on taxing the rich, in Room 35 of the State House.

WHY: To demand higher taxes on the rich. The march is timed to coincide with a House Finance Committee hearing Tuesday that considers bills to raise taxes on the wealthiest. Some Occupy Providence members will participate vigorously in that hearing. Occupy Providence expects that the House Committee will vote to kill these bills by "holding them for further study".  The march will show how Rhode Islanders are fed up with politicians damaging our economy by giving tax breaks to the rich.

VISUALS include Occupy Providence members – some dressed in Robin Hood costumes – marching with signs around, and then into, the State House.