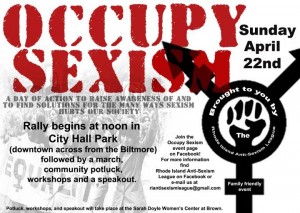 Rape culture, says the Women's Center at Marshall University, is when "sexual violence against women is normalized and excused in the media and popular culture. [It] is perpetuated through the use of misogynistic language, the objectification of women's bodies, and the glamorization of sexual violence."
Sound a bit too familiar? Join Occupy Providence and the Rhode Island Anti-Sexism League for their Occupy Sexism event today for "a rally at City Hall Park at noon, and continue with a march ending at the Sarah Doyle Women's Center at 26 Benevolent Street at 2 PM.," according to a press release.
Here's more:
April 22nd is Occupy Sexism: a day of action in an effort to continue the dialogue around rape culture. Inspired by the International Slutwalk events of 2011, Occupy Sexism carries the conversation one step further to address the pervasive discrimination and violence faced by women, and by persons of every gender on a daily basis. Occupy Sexism is sponsored by the Rhode Island Anti-Sexism League and co-sponsored by the Providence Branch of the International Socialist Organization, and Occupy Providence.

Please join us for a rally, speakers, and workshops that aim to bring awareness to, and discuss ways to fight back against, attacks on women and the LGBT community, reproductive rights, rape culture, sexual assault in the military, sexism in the Occupy movement, sex workers, and more. These issues directly affect your family, your friends, your neighbors and you every day. Come get educated and empowered to fight back against sexism!