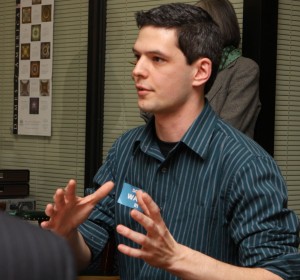 Ocean State Action today announced the addition of Mark Gray to their organizing staff, naming him the new Where's the Work? campaign organizer after the departure of Aaron Regunberg, who has moved on to serve as Director of the Providence Student Union.
As Where's the Work? campaign organizer, Gray will spearhead Ocean State Action's continuing efforts to increase public awareness and understanding of the unemployment crisis in Rhode Island by putting the stories of unemployed Rhode Islanders front and center to reshape the public debate about our economy and make sure that our elected leaders better understand the urgent action that their constituents need to address the unemployment crisis.
"We are thrilled to have Mark join our team," said Kate Brock, Executive Director.  "He has demonstrated the talent, creativity and diligence needed to help mobilize and empower Rhode Island's un- and underemployed workers."
Gray has spent the last two years with Clean Water Action Rhode Island where he worked as a grassroots organizer on numerous campaigns, including diesel emissions reduction efforts and extended producer responsibility.  In addition to serving as Recruitment Director for Clean Water Action's renowned field canvass operation, Gray also led the organization's highly successful efforts to support endorsed General Assembly candidates in the 2012 election.
"I am sincerely honored to be joining Ocean State Action," Gray said.  "The personal stories of those struggling with unemployment as a result of the economic crisis are getting lost in the noise of data and statistics.  I am grateful for the opportunity to help these voices be heard."
Ocean State Action is a coalition of community and environmental organizations, professional associations, and labor unions who have been fighting for social and economic justice for over two decades.  
OSA Hires Mark Gray for 'Where's the Work' Project

,