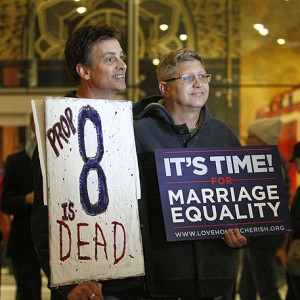 In the summer of 2010, when I skimmed Judge Walker's ruling on Prop 8, I said, "It's all over but the crying." The 9th Circuit's decision on February 7, 2012 was another inevitable move in the legal end-game of marriage equality.
I also predicted that the US Supreme Court would decline to hear the case. I'm sticking to my guns. Here's why…
Walker's Opinion Mostly Not an Opinion
The bulk of Walker's opinion is not an opinion at all; it consists of findings of fact. And they are crushing. In order for a law to treat different classes of people differently, the legislating body must demonstrate a compelling interest in doing so. In this case, the basic argument that "traditional marriage" should be upheld is based primarily on religious concepts that have no standing in a court of law. By the "traditional" reasoning, segregation should have been allowed to continue; it's the way it had always been in the South.
Similarly, the argument that homosexuality is a personal choice also had no evidentiary support. Nor did the assertion that children are better off with opposite-sex parents.
In fact, nothing that the defendants brought to the table passed muster. It was a rout.
The Juriprudence is Clear
Many, many cases along these basic lines have been heard in the US Federal Courts, producing a wealth of precedents on which Walker could base his ruling. The main precedent here is Brown vs Board of Education, which ruled that "separate but equal is inherently unequal".
Brown had overturned Plessy vs Ferguson, a late 19th century decision that allowed for segregation so long as states provided equal facilities. Brown found that the act of separation invariably produced unequal results. The bar for creating distinct legal classes is exceptionally high.
I should note that the dissenter in the 9th Circuit's decision did say, "The optimal parenting rationale could conceivably be a legitimate governmental interest". This argument was clearly refuted in Walker's findings of facts and, while I haven't read the dissent, it would be a pretty big deal if the appellate court were to overrule a finding of fact.
It's all in the language. "Could conceivably…" Not a particularly ringing endorsement. It's like he needed to throw the anti-equality side a bone.
Walker's Sexuality Not an Issue
The 9th Circuit also found nothing in the argument that Walker's sexuality had biased his opinion. That is such a legal loser that it's just laughable. By that logic, nobody could have ruled on Brown vs Board because they were all either white or black!
Like the dissent's weak tea with the optimal parenting line, this is a sign of increasing desperation from the anti-equality camp. Here's why they're desperate…
US Supreme Court Won't Hear This Case
This is actually an easy call, because it's a no-win situation for the court. If they take this case, they have two basic options, 1) uphold marriage equality with a Federal precedent that will instantly obsolete all other state efforts in to ban same-sex marriages or 2) be the court that overturned Brown vs Board of Education. Neither of those two things will occur.
Despite their protestations to the contrary, this is a spectacularly political and activist court. The conservative forces are out to put their stamp on the jurisprudence and pull the court back from what they see as an overreaching authority. If the Scalito brothers thought for one hot second that they could uphold this blatantly unconstitutional ban without overturning Brown, they would. But they can't, and they know it.
And they'll be damned if they're going to put their seal of approval on marriage equality. They'll be happy to watch years of legal shenanigans as state after state goes through this same process with this same result. Perhaps they're hoping that other facts will be found or some new legal argument will be invented to demonstrate a compelling governmental interest in creating this class of citizens with limited rights. That also is not going to happen.
The most likely outcome is that the court will refuse to hear the case. It will sting the anti-equality camp, no doubt, but it will leave them to fight another day. I suppose it's possible that the court will use some obscure option to hear the case without having to rule or something like that. It seems virtually impossible that this US Supreme Court will rule on this case.
So cry all you want, Righty. It's over.
One More Step Toward Prop 8's Doom

,