Too many of us think of AIDS as something that occurred in the past, and see it as a manageable, if unfortunate disease that is well on its way to being eradicated.
The truth is that as of 2012, over 1591 Rhode Islanders has died because of this epidemic. Though the rate of new infections has decreased over the last 30 years, there were 74 new cases of AIDS in RI in 2013. This is an increase of over 17%, according to Dr. Amy Nunn of Brown University who spoke at the State House yesterday for World AIDS Day. She was joined by Governor Linc Chafee and US Rep. David Cicilline and many public health advocates.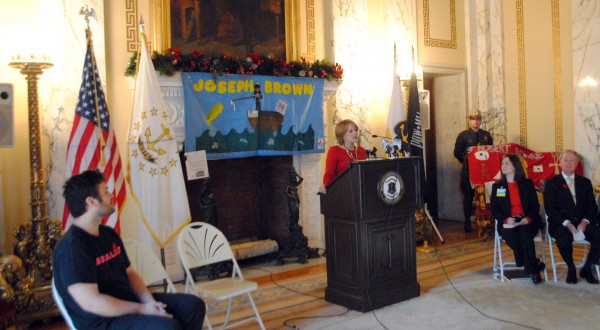 "Today, over half of the new infections are among men, in Rhode Island, and we know from Dr. Philip Chan's study that a lot of these people are meeting on line, on the Internet," says Dr. Nunn, "The problem is that our preventative response hasn't been as quick as those websites which are making money hand over fist and helping people hook up online."
Dr. Nunn would like to avoid stigmatizing high risk lifestyles and instead concentrate on education as a means of protection.
The answer is "to get our preventive response aligned with how people are getting infected." Dr. Nunn sees the answer as partnering with these online hook up sites like Grindr, "I would posit that they do a much better job of reaching the highest risk people than we have done in the public health community, and it's time for a revolution."
"I would like to challenge every one in the room that we really need to think about how we can enhance our prevention strategies by working with these companies online and also shaming them into corporate social responsibility. Why aren't they doing more?"
Dr. Nunn would also like to implement AIDS screening as part of our regular checkups, as routine as blood pressure and temperature checks.
If we do this, says Dr. Nunn, we have a good chance of getting our AIDS infection rates down to zero.
---
---
Support Steve Ahlquist!
Online hookup sites key to combatting AIDS in Rhode Island

,