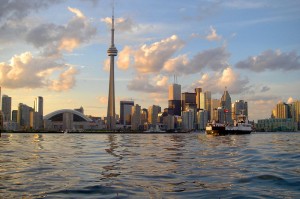 OK, I recently spent some time in Ontario.
Which, is part of Canada, but it's only a part. I cannot speak about Canada as a whole, but I can speak about Ontario.
Ontario has a much higher tax burden than any state (including RI and NJ) in the USofA.  Gas costs more than $5 per gallon. It has universal health care. The minimum wage is $10.25 per hour.  Union density remains very high. Factory jobs pay well. The regulatory environment makes California look like a Libertarian paradise.
IOW, it's a socialist heck-hole.
If one listens to RW 'economists', these conditions mean that the economy of Ontario has to–HAS TO!!–be in the tank, right? According to every RW pundit and crank and know-nothing, all of those conditions mean that the economy has to–HAS TO!!–be creeping along at a negative growth rate. It's a law of nature. Taxes, regulation, unions, high minimum wage, any one of these are job killers. The whole group of them must be–MUST BE!!–Economy Killers.
Right? Right! Ayn Rand said so!
Guess what? The economy of Ontario is booming. There was no financial crisis. Why not? The regulatory environment didn't allow the banking system (or shadow banking system, which pretty much doesn't exist north of the border) to play Russian Roulette the way banks here did.
The high minimum wage means that even people working low-end service jobs have money to spend. And they spend it. Which stimulates the economy. Just like Henry Ford said would happen.
The universal health care means less time is lost to sickness, and that sick people get care before they end up in the emergency room, and cost 5-6 times what it should cost to treat them. Costs which uninsured people pass on to the rest of us. So their health care system produces comparable results at about half the cost.
(Ah, I can hear it: but but but you have to wait six months for a hip replacement!! Yeah. What's the point? Hip replacements are elective. Yes, they make people's lives better, but they aren't generally a matter of life and death. And, who gets most hip replacements in the US? Folks with single-payer health insurance. Except here we call it "Medicare".)
My point is that, according to Ayn Rand, and Paul Ryan, Charles Krauthammer and the WSJ (and too many others to name), the economy of Ontari0 has to–HAS TO!!– be dismal. In fact, it's great.
How is that possible? Could it be (gasp!) that RW 'economics' is actually an ideological position, completely divorced from the way the real world actually works?
That's exactly what it means. The stuff that RW 'economists' claim is actually an ideological belief that has nothing to do with how the economy in the real world actually works.
Don't believe me? Go to Ontario. Look at the cranes in Toronto, the spanking-new factories along the highway, the huge numbers of houses being built in London, the industry in Sarnia.