"Everybody wins," comments journalist Bill Rappleye in the NBC 10 piece about prison reform that aired on Friday. That optimism is not something that is usually included in journalism about prison these days.  Senator Whitehouse's leadership on this issue has attracted positive attention recently, including another ProJo article in which Whitehouse visited the ACI Sociology class that produces the Prison Op/Ed Project.
Whitehouse's current legislation promises some of the most substantive federal criminal justice reforms in decades and just passed the Senate Judiciary Committee.  Some elements of the law are only as good as the rehabilitative programs they support, and NBC 10 featured a program here in RI that is proving that success is possible: the 9 Yards program run by OpenDoors.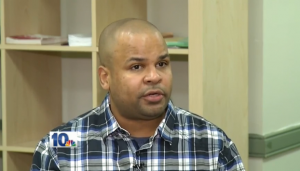 Wilfredo Cintron, a 9 Yards graduate who was profiled by Rappleye, had been in  and out of prison for over ten years.  "19 months–that's the longest stretch I've  been out. And I want to keep it that way, I want to keep going," he says.    Cintron's success is no small feat for him, and it shows the potential for transformation with the right support.  I met Wilfredo on July 8, 2013, the first  day of the 9 Yards program.  He described that day in the full interview that he gave with Bill Rappleye, saying "I almost walked out, I was thinking that this was  just going to be a waste of my time. But I didn't, and that was the best decision I  think I've made in my life."
9 Yards is a new, unique prisoner reentry program that provides long term, comprehensive support.  I am the Program Director, and when we started 9 Yards the hope was that we could provide enough assistance to participants that they could actually break the cycle of crime and incarceration for good.  9 Yards  started with funding from the Governor's Workforce Board.  It provides  academic support, vocational training, and counseling to small groups of  participants in Medium Security prison for around six months.  If they work hard in prison, they get a big helping hand when they get out–transitional supportive housing, case management, and employment coaching for at least six months after release.  You can read more about the program, see videos, and read our report, here.  Not many programs can provide so much, and Wilfredo is proof of what is possible if each element is in place.
The experience of running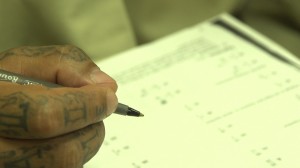 this program and working with men such as Wilfredo has  changed the way I look at this issue dramatically.  Most importantly, it's  taught me  that rehabilitation is possible but extremely hard.  I remember when I  first started  working with Wilfredo it was tough just to get him to come to class. He would agree  with me that he needed to work harder one moment, and then  next moment he'd be  making up excuses to leave. High expectations and work  ethic are not part of the  normal culture in prison, where people spend years  passing the time, staring at a tv  screen, waiting for their life to re-start.
Wilfredo's present accomplishments began in a small classroom in Medium Security prison, where he started coming to class almost every day, often without me telling him to. When we began, he tested at a middle school reading and writing level. He had previously enrolled at CCRI several times, each time testing into remedial classes and then dropping out. After months of tutoring, he tested into accredited CCRI classes and proceeded to earn his first six CCRI credits. At the same time, he got something even more valuable than credits–self confidence and hope. "9 Yards helped me remember how smart I really am," he once told me.
All of the work Wilfredo did was nothing compared to the challenges he faced when he was released 19 months ago. Despite his changes and his dreams of a new path, he was immediately faced with the exact same life that had led him to prison two years ago: bad habits, a temper, tons of stress, people he had let down, people trying to bring him down, few marketable skills, and a society that was constantly slamming the door in his face. After two weeks he was couch surfing, broke, and almost certainly on his way back to jail.
He then moved into the second phase of the 9 Yards program. I ran and lived in the transitional house that he moved into at the time, and so I witnessed each difficult day. He told me about running into his old acquaintances everywhere he went and forcing himself to delete their phone numbers from his phone. He applied for job after job, sure he would be able to find work on his own, only to be turned down each time due to his record. Only after our intern spent two weeks going door to door for him did we find someone willing to hire him (and that was only with the help of RI's Work Immersion program, which subsidized his hire). He has been at the job every week since then. The day after he was released, we went to a culinary arts program to get him signed up for training.  Six months and probably fifty hours of leg-work later, after being denied entry into training three times by two different agencies, we got him into the CCRI program, which he has now graduated from.
At each step, change was painstaking. He learned to dress differently, swapping his oversized sports-caps and baggy jeans for clothes that fit his new life. He got better at accepting advice and criticism. He gradually earned back the trust of his family. He relearned things as simple as saying please and thank you.
Each phase of 9 Yards works only because it is a collaboration with the criminal justice system. Without time in prison to refocus, Wilfredo would never have taken the steps he did prior to release. He was released about three months early from prison by the RI Parole Board, which paroled him to 9 Yards. Without the supervision and strict conditions of parole, its hard to say if he would have been able to resist the pull of negative influences, and during several difficult situations he commented to me that it was a good thing that he was on parole. But with these systems in place, working in collaboration with intensive reentry support, success stories such as Wilfredo's are possible. As Senator Whitehouse said in the Projo last week, "'There is not going to be a big flood of money into the programs,' unless the programs are shown to work well."  But when they work well, everybody wins.