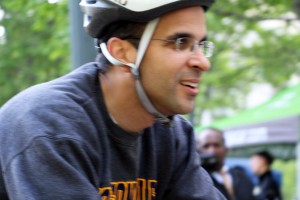 Angel Taveras and Clay Pell have managed to do at least one thing Gina Raimondo couldn't: pit public sector unions against one another.
While NEARI, the state's suburban teachers' union, is vociferously backing Pell, a diverse group of public and private sector unions launched today calling itself "Working Families for Angel."
In a press release the group said: "Angel Taveras is the only Democratic candidate in this race who knows the stresses working families are under.  Angel was raised by a single mother; his first job was a unionized bagger and cashier at a grocery store; worked his way through law school; and as Mayor has collaboratively solved problems with his employees to move Providence forward. We will convey this message to our members and their families, utilizing every communication avenue possible and look forward to the Democratic Primary Election on September 9th.  We are confident that come Election Day our members' voices will be heard."
The group plans on making contact with 16,000 union households, it said in the press release. "A coalition this size could represent more than 30% of this year's Democratic gubernatorial primary voters, and provide a massive boost to Angel Taveras' campaign," it said.
The group includes, according to the press statement:
…the Rhode Island State Association of Firefighters, International Association of Firefighters, AFL-CIO; RI Council 94, American Federation of State County and Municipal Employees, AFL-CIO;  United Food and Commercial Workers, Local 328; United Food and Commercial Workers, Local 791; International Brotherhood of Police Officers, National Association of Government Employees, SEIU, AFL-CIO;  Service Employees International Union, Local 580, AFL-CIO; Brotherhood of Utility Workers Council, Local 310, United Utility Workers of America, AFL-CIO; and International Federation of Professional and Technical Engineers, Local 400, AFL-CIO.