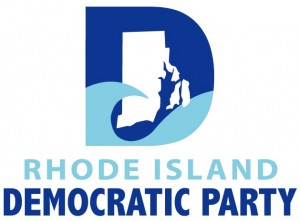 The history of our nation has been shaped by the outcome of over two centuries worth of elections and the leaders that have risen from them.
Casting a ballot is our connection to the democratic foundations on which this country was founded.  Our forefathers each cast an historic single vote in 1789 – as you did for Barack Obama four years ago.
We live in a great country today because Americans have elected leaders who are strong and respected, yet compassionate and advocates for change.
Four years ago, we as Americans voted to support change and to move forward when we elected Barack Obama President of the United States.
In the past four years America has moved forward through the hard work and dedication of people just like you.
Today as voters throughout Rhode Island go to the polls, they will face a critical decision: four more years of Democratic progress, or an unsure future at the hands of disconnected Republican leadership.
Let's finish what we started.
PROUD TO BE A DEMOCRAT!
Sincerely,
Ed Pacheco
Chairman
P.S. If you're unsure where your polling place is, click on this helpful link!
And don't forget to join us for Election Night in the 17th Floor Ballroom at the Providence Biltmore, doors open at 7:30 p.m.