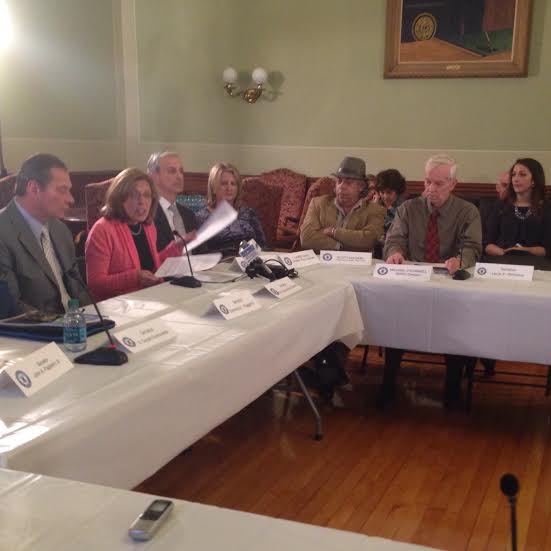 Senate President Teresa Paiva Weed said her Grow Green Jobs RI initiative would help Rhode Island become the national leader in green, sustainable and resilient industries.
"There is great potential within the emerging green industries," she told me in an extended interview one day after introducing a report that lays out her policy recommendations. "If we as a state position ourselves to maximize all available opportunities it will in fact move us forward and secure for us national recognition."

The initiative already enjoys broad support in the private sector – from the chamber of commerce to organized labor, she pointed out. And she expects legislators from both chambers will champion the bills as protecting the environment is a bi-partisan cause in the Ocean State. "House, Senate, Democrat, Republican and I guess each of us have an independent," she said. "It's really a shared value."
Carbon pricing bill
Paiva Weed is reserving judgment on the carbon pricing bill introduced yesterday in the House by Rep. Aaron Regunberg. "There is obviously not the same kind of agreement among business and environmentalists on that issue as many are concerned about Rhode Island being an outlier," she told me. "I absolutely support the goal of the legislation without question. The question is from a business point of view how do we as a region, as a country, internationally, remain competitive and address our concerns regarding carbon."
Tolls
Representing Newport and Jamestown, Paiva Weed serves the only two communities in Rhode Island that already have toll gantries. She said local bridges managed by the Turnpike and Bridge Authority, funded by tolls, are in demonstrably better condition than those maintained by the DOT, funded through the state budget.
"We have safe, well maintained bridges in Newport, in Jamestown and in the Mt. Hope bridge for one reason: because the individuals who use those bridges pay tolls," she said. "Every other overpass in the state that I can think of if you drive under is a danger. They are falling down, they are decrepit, they are a danger both to the people over and under them."
Education
A staunch advocate of progressive education funding, Paiva Weed said Rhode Island needs to continue its recent tradition of increasing state education funding. She added that it's important to fix the funding formula so that it stops punishing traditional school districts for sending a high number of students to charter schools.
"As charter schools have developed the structure of the funding formula failed to recognize that there would be a tipping point at which the diversion of funds from the traditional public education system would negatively impact the traditional public school system," she said. "If we as a state supported school choice, which we said we did when we passed the legislation years ago creating charter schools, then we would need to recognize that tipping point and provide additional funds for communities that have more of a draw on their base from charters."
Listen to the full 23 minute interview here:
Paiva Weed on attracting green industries to RI, tolls and education funding

,