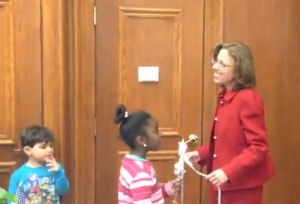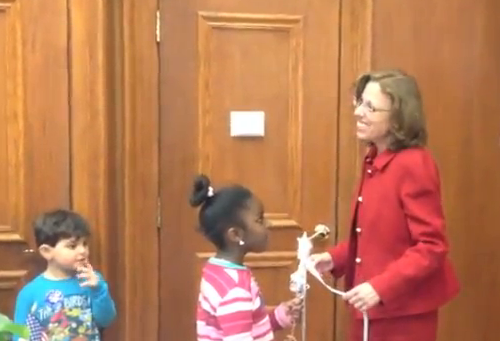 Senate President Teresa Paiva Weed said she supports legislation that would allocate $3.25 million for rental vouchers and shelter costs to help address Rhode Island's increasing homeless population. But she said the spending proposal would likely be part of budget negotiations rather than stand alone legislation.
She offered her support after a group of munchkins delivered her a wand and christened her Glenda the Good Witch.
It was all part of a Wizard of Oz event staged by the Rhode Island Coalition for the Homeless at the State House on Wednesday. According to the press release: "With the constant refrain of 'There's No Place Like Home,' advocated urged the legislature to support H5554 and S494."
If it sounds fun, it was. But the issue is a serious one. According to the 2013 point-in-time homeless survey by Dr. Eric Hirsch, a sociology professor at Providence College, the number of people living on the streets in Rhode Island has increased by 10 percent since last year. Rental vouchers would help homeless individuals get off the streets and begin to pick themselves up out of poverty.
"We want all of the state's Dorothys to find their way home and to have the opportunity to realize that, indeed, there is no place like home," said Coalition Director Jim Ryczek.