PROVIDENCE, RI – Are Rhode Islanders paying fees for loans that are higher than what residents in other states are paying? The answer in some cases is yes – 260% versus 36%. Learn more about the type of loans that charge these rates, the impact of these loans on RI families, and what you can do to stop the practice in this excerpt from my interview with Margaux Morriseau and Nick Figueroa of the RI Coalition for Payday Reform.
It's from the February 8, 2012 edition of Sonic Watermelons on BSR (Brown Student and Community Radio) – a show I produce as part of my work on VenusSings.com and with Isis Storm, a collective of artists, writers, and educators who empower women and underserved communities through performances, workshops, and media projects.
For more information on the topic, click here to listen to the full interview or click on the handouts provided below by the RI Coalition for Payday Reform.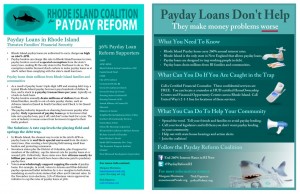 FYI:  Hear Sonic Watermelons live every Wednesday, from 6:00-8:00 PM…
Presented by Venus Sings and Isis Storm
Because the World is a Big Place
With Big Ideas and Lots and Lots of Music
Live or archived: bsrlive.com
Studio phonelines: 401-863-9277
Contact: IsisStorm.com, VenusSings.com