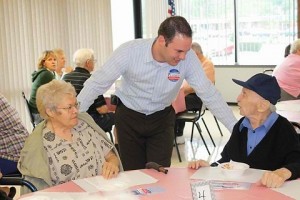 In spite of his youth, Ryan Pearson has already served a tenure with the Cumberland School Committee and has built bridges there, rather than simply padding his resume for future office.
He also ran for the state Senate once before and lost by a narrow margin to current Senator Beth Moura. Pearson has a background in finance, currently holding position with RBS Citizens. That combination of an ever increasing financial savvy and a youthful enthusiasm for fixing Rhode Island's broken political structure implies a refreshing, if a bit naive, desire for change in his district and Rhode Island as a whole.
Perhaps an even more immediate and pressing reason for electing Pearson is to banish Beth Moura from any public policy making position. Moura is a dangerous and mean-spirited social conservative who has made public statements that show her to be a radical, right wing obstructionist of progress.
Her stances on voter ID laws suggest a possible desire to repeal the Voting Rights Act of 1965. Furthermore, her speech to RIILE, when referencing a March 2012 ProJo article suggesting a possible relationship between a controversial bill concerning "reasonable suspicion" needed for more than standard identification requests during routine police stops and possible racial profiling led to viral video footage of  her saying: "If Rhode Island is so full of racists and bigots why do they keep coming here?" (insert groan of dismay here).
She also incited controversy, via incendiary tweets in reference to Cranston West student, Jessica Ahlquist's, constitutional rights to objecting to having to be subjected to Christian doctrine in public school. Twitter responses to Moura's unkind tweets involved the common idiom of Moura having "put her foot in her mouth." Her response was to contact the State Police and charge "communication of threats."
Ryan Pearson is likeable. He's bright. He's enthusiastic and energetic. He's kind and personable and makes youthful naivete appear filled with the possibility of progressive policy education throughout his political career. His incumbent opponent, on the other hand, I would like to keep at least one hundred yards away from schools and playgrounds. Therefore I endorse Ryan Pearson for state senate in district 19: Lincoln/Cumberland.
Pearson Shines Light on Moura's Stone-Age Politics

,