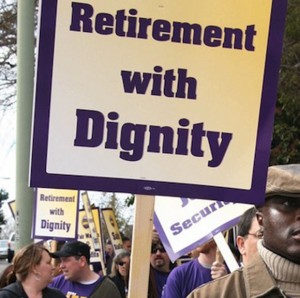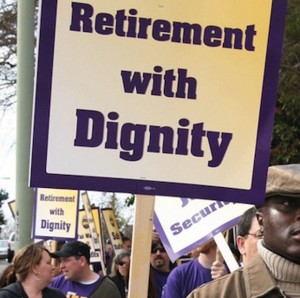 Much will be said, written, ranted, argued, distorted and down-right lied about as Rhode Island's landmark pension reform law heads to court today. But if there is one thing that everyone from David Boies to Bob Walsh can agree on it's that the case hinges on whether or not the courts think public employees have a right to the retirement plan that was offered to them.
Here's how Mike Stanton said it in today's ProJo: "The pension suits boil down to two critical issues –– do the unions and retirees have an implied contract right, and if so, are the benefits cuts a permissible impairment to achieve a compelling public purpose?"
And for those of you handicapping at home, keep in mind Judge Sarah Taft-Carter has already ruled in a real similar case that they do. Here's an excerpt from Ted Nesi's conversation with Boies about just that:
Nesi: Judge Taft-Carter says employees and retirees have an implied contract right to their promised pension benefits. You think she's wrong.

Boies: Yes. I think there's a difference between a statute and a contract. But obviously my view doesn't control; I'm just an advocate for one particular party. What matters is what the courts ultimately decide.
All of a sudden Rhode Island's landmark pension reform law doesn't seem like the same slam dunk it did when Raimondomania was bragging about it to the likes of the Manhattan Institute and others.
This is precisely why sitting down and talking it out makes sense. In fact, Dan McGowan calls out the governor not for coming to the table, but for not doing so sooner! McGowan wrote a great overview of the ongoing pension drama under the headline: "Does Rhode Island's Pension Reform Law Have Any Chance of Survival?"
While the headline may say more about GoLocal than it does pension reform, all the players knew labor leaders thought the bill as written was unconstitutional, and that they could and would put together a couple bucks to fight it in court. Indeed, several of them testified to as much during legislative hearings at the State House.
And now here we are. It may seem like a pivotal day in the process of pension reform but this one – just like the many others that have come before it – is really just another baby step in determining if the government has the legal right to break a promise because it didn't take the steps necessary to keep it.