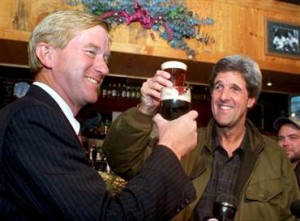 In 1996 incumbent John Kerry and Governor William Weld were headed toward an epic showdown for the U.S. Senate in Massachusetts. Closely matched as candidates, they knew spending in their upcoming race could break records. In a novel twist the candidates themselves sat down and negotiated an agreement to limit the total amount that could be spent by the campaigns (including from their personal fortunes), their respective parties, and outside groups. They also agreed to a series of televised debates throughout the state. Although the spending caps broke down in the final days, the race was a watershed moment for campaign finance.
Fast-forward to 2012 and incumbent Senator Scott Brown reached out to challenger Elizabeth Warren (read the actual correspondence) and challenged her to enter a People's Pledge. Modeled after the Weld-Kerry agreement it included limits on outside spending (it's notable that no one is talking about limiting total expenditures any more—Citizens United changed the political landscape and dialogue). After significant back and forth, both candidates signed on and even sent notice to third party groups and TV stations that might run their ads, warning them to stay out of the race.
Common Cause Massachusetts reported that the 2012 People's Pledge did a great job at minimizing outside money in the Brown-Warren race when compared to similar races that year. We know that outside spending is overwhelmingly negative, can come from undisclosed sources, and can be raised in unlimited amounts. In 2013 when the Gomez-Markey race did not have a pledge outside spending from right and left came flooding back in.
So here we are in neighboring Rhode Island looking at the prospect of a very expensive Democratic primary, followed by a very short, but quite-possibly expensive, general election for governor in 2014. Typically races for governor aren't fought on the national issues that draws outside groups into Senate races but that may be different this time.
Common Cause Rhode Island would like to see all candidates for governor negotiate a People's Pledge.  We mentioned the idea over a month ago when the first self-described Super PAC emerged.  Sam Howard wrote about the idea at length on RI Future soon after.  Quite frankly, we were waiting for the candidates to actually declare before we began to push for an agreement.
So now the cat is out of the bag.  As a non-partisan group that does not engage in electioneering it would be easy to just let the topic die.  We do not want to be seen as favoring any candidate over another.  But this is too important a topic.  Rhode Island deserves a campaign in 2014 that will focus on issues, not attacks. We deserve to know where the money that is backing the candidates is coming from. For those reasons we are asking the would-be candidates to meet and discuss this idea.
This won't be easy.  Massachusetts has demonstrated that these agreements might take some time to work out, but that they can work.  Each candidate has strengths and weaknesses when it comes to campaign finance and the negotiations should address those.  As the Supreme Court dismantles limits on money in politics (and next it might be limits on contributions directly to candidates) we need to look to alternatives.  The People's Pledge may be our best hope.  Let's give it a try.
People's Pledge: Let's give it a try

,