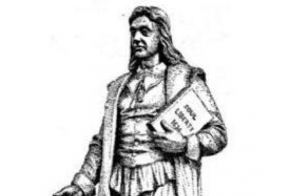 Roger Williams, the godfather of church/state separation and the founder of Rhode Island, arrives in the New World on this day in 1631. Sometimes called the world's first abolitionist, the Ocean State inventor is world famous for pretty much inventing the concept of secular government.
He was just 29 when he arrived in Boston and he had already concluded that the Church of England was corrupt. A year later he wrote that England was effectively stealing land from the indigenous people. By 1636 he left Massachusetts to start his own utopia and called it Providence … meaning to make provisions for the future.
Completely unrelated, Connecticut requires cattle be branded today in 1644.
First time a plane is ever shot down out of mid-air, today in 1918.
Rupert Murdoch's News of the World publishes headline: "Pop Stars & Drugs — Facts that Will Shock You" today in 1967.
Happy birthday Hank Aaron, born today in 1934.
People's History: Roger Williams Arrives in Boston

,