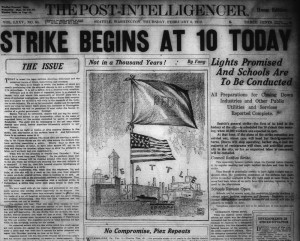 The first general strike in the United States took place today in 1919 in Seattle when some 60,000 workers walked out because war-time wage freezes were kept in place after the fighting was over.
A leaflet for the action read, "You are doomed to wage slavery till you die unless you wake up, realize that you and the boss have nothing in common, that the employing class must be overthrown, and that you, the workers, must take over the control of your jobs, and through them, the control over your lives instead of offering yourself up to the masters as a sacrifice six days a week, so that they may coin profits out of your sweat and toil."
Leonard Peltier is arrested in Canada, today 1976. He was a leader of the American Indian Movement and is accused of killing two FBI agents during the shootout at the Pine Ridge Reservation.
However … according to Amnesty International: "The only alleged eyewitness to the shootings was Myrtle Poor Bear, a Lakota Native woman who lived at Pine Ridge. On the basis of her statements that she had seen Leonard Peltier kill Williams and Coler, Peltier was extradited from Canada, where he fled following the shootings. However, Myrtle Poor Bear retracted her testimony in 1977. In a public statement issued by Myrtle Poor Bear in 2000, she said that her original testimony was a result of months of threats and harassment from FBI agents."
Chris Gueffroy is the last person to be shot for crossing the Berlin Wall today in 1989.
Happy birthday Bob Marley, born today in 1945 … he once paraphrased Jesus by singing, "the stone that the builder refuse will always be the head cornerstone."
John Steinbeck publishes "Of Mice and Men" is published. "We could live offa the fatta the lan'" wished Lennie…