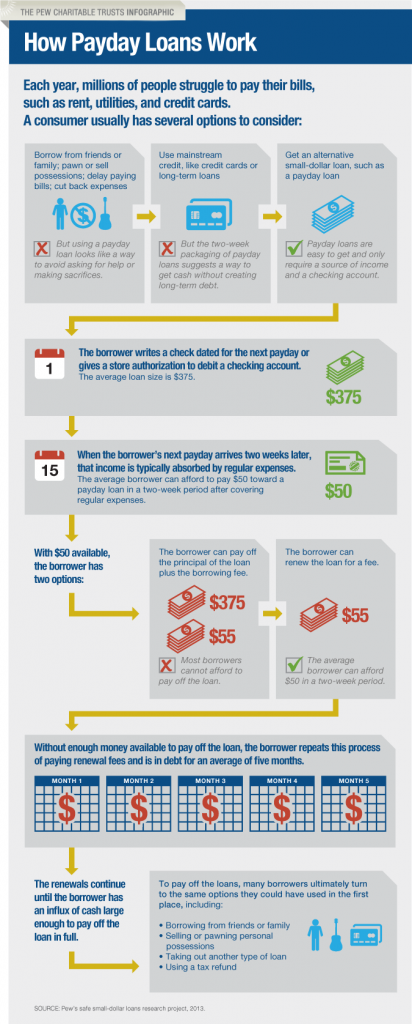 "Payday loans fail to work as advertised," concludes a new report from the Pew Charitable Trust.
The predatory practice of payday lending has been a highly charged issue for several legislative sessions. Standing in the way of reform is House Speaker Gordon Fox's loyalty to former speaker Bill Murphy, who has been hired as an industry lobbyist to make the exact kinds of claims that the Pew report rejects.
Reform is important to progressives because the loans take advantage of impoverished, desperate people who mistakenly think a payday loan can help their situation. The new report shows they don't.
"Many of these borrowers ultimately turn to the same options they could have used instead of payday loans to finally pay off the loans, including getting help from friends or family, selling or pawning personal possessions, or taking out another type of loan," according to an overview of the new report. "Seventy-eight percent of borrowers rely on lenders for accurate information, but the stated price tag for an average $375, two-week loan bears little resemblance to the actual cost of more than $500 over the five months of debt that the average user experiences."
Fox has said he is skeptical of reform because there are no other alternatives to payday loans. In fact, there are three "short term, small dollar" loans available in Rhode Island that have vastly lower interest rates than payday loans.
The Providence Journal had an excellent story on payday loan reform in which Fox was quoted as being open to compromise. My question would be: if his reasons for supporting the practice aren't legitimate (as evidenced by the previous paragraph) why is a compromise the appropriate fix?