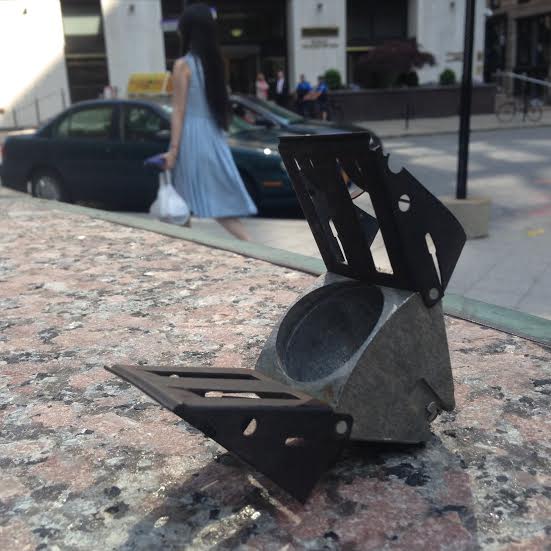 Pia Ward has personal reasons for protesting Textron's cluster bombs. She grew up in Beirut, Lebanon and as a young girl collected the military ordnance strewn across the countryside.
"My dad said 'don't pick up anything that's live,'" she said, showing off what she described as an expired Israeli landmine found in Beirut during the 1980s.
"But you know you're a child and you see something and you want this for your collection," Ward said. "Many times I picked up something like this, not knowing if it was live, not knowing if it was exploded. I could have blown off my arms. This is what is happening to children."
This is what happened to her childhood friend Kahlil, she said, who rode over a landmine on his bicycle – an accident that took both his legs.
This is why Ward, a member of the FANG Collective, organizes weekly actions in front of Textron's world headquarters at 40 Westminster St. in downtown Providence.
Textron is the last North American manufacturer of cluster bombs, which are outlawed by 119 nations and the United Nations but not by the United States or Saudi Arabia. The US State Department buys cluster bombs from Textron and sells them to Saudi Arabia. Textron's cluster bombs, by way of a Saudi-led military campaign, have been found in Yemen, where dozens of civilian deaths have been attributed to cluster bombs over the past year.
Global humanitarian groups such as Amnesty International and Human Rights Watch have recently called on Textron to stop making cluster bombs. Both have presented evidence that Textron's cluster bombs malfunction more often than allowed by US trade law.
Peace activists in Providence have promised weekly actions in front of Textron's downtown headquarters until the Rhode Island-based global conglomerate stops making cluster bombs. About 10 people attended the second weekly action on Wednesday afternoon, scheduled to coincide with Textron and other employees leaving work. Four Providence police officers stood watch as activists held signs and conversed with people walking by.
Read RI Future's full coverage of Textron's cluster bombs here:
Pia Ward's personal connection to cluster bomb casualities

,