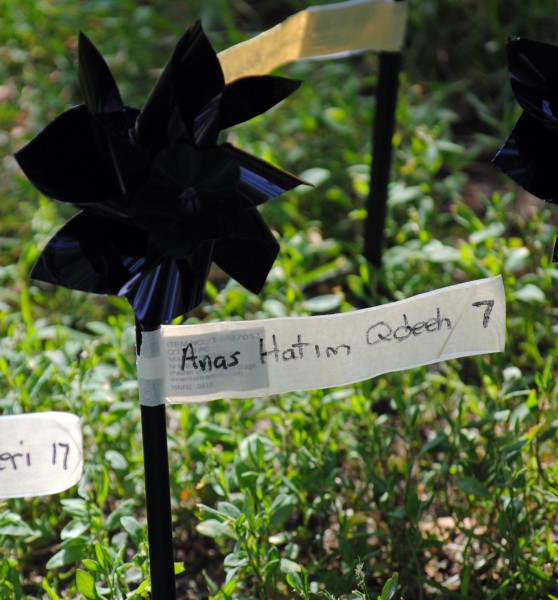 Dexter Field in Providence was the site of an emotive, almost overpowering memorial to the 522 children who lost their lives in the senseless war between Israel and Gaza which began one year ago on July 7. One black pinwheel was created for all of the 521 Palestinian children and the one Israeli child who lost their lives. Each pinwheel was then labeled with the name of the child and planted in the grass near the corner of the park by Martha Yager of the American Friends Service Committee.
Passersby asked questions, explained the memorial to their children, or sat in quiet contemplation.
Today marks the one year anniversary of the death of the 4 young Palestinian cousins who were killed while playing soccer in front of a stunned international press corp.
"The story is no more horrific than any of the others," said Yager in her release for the event, "but it put a human face on the random carnage of war."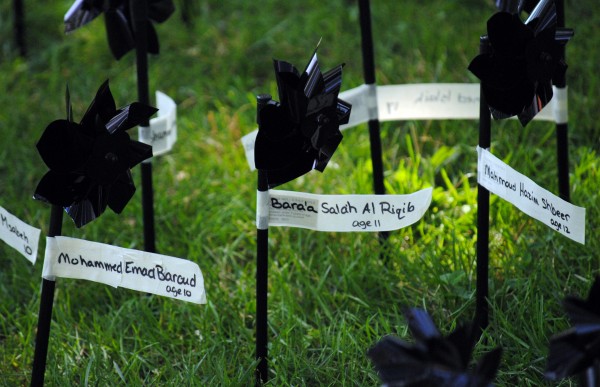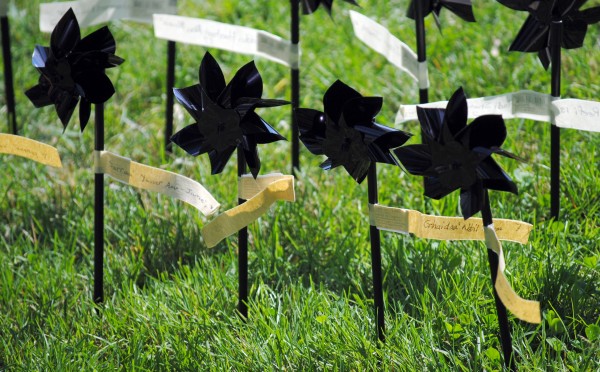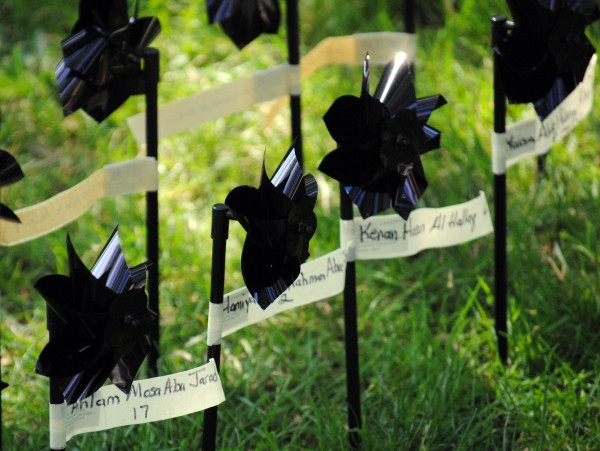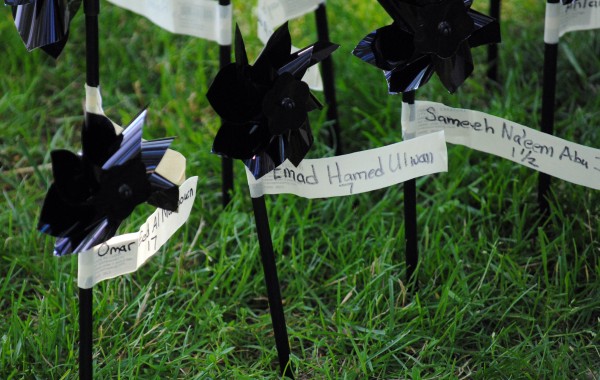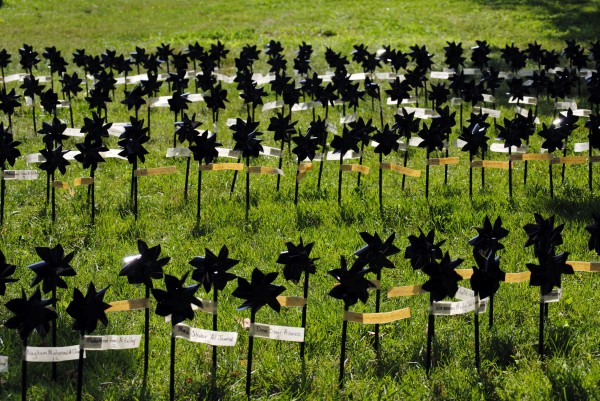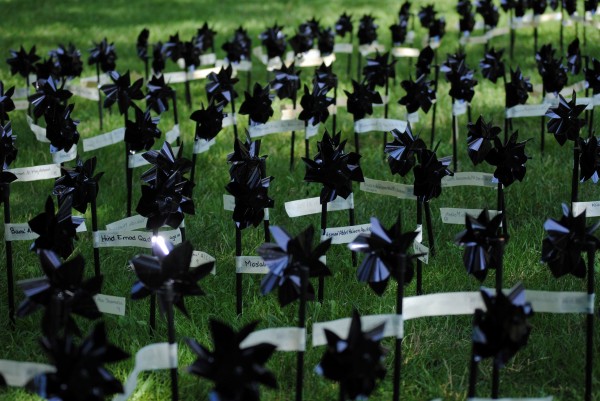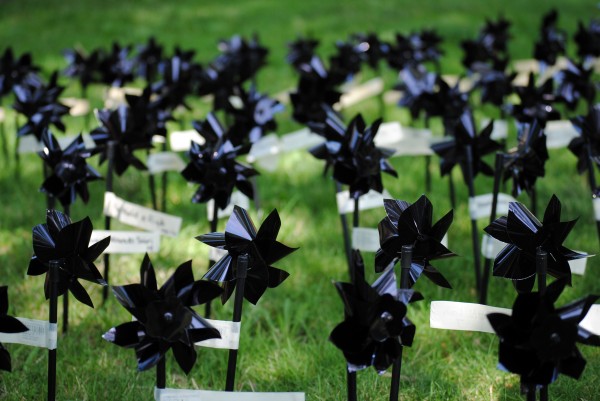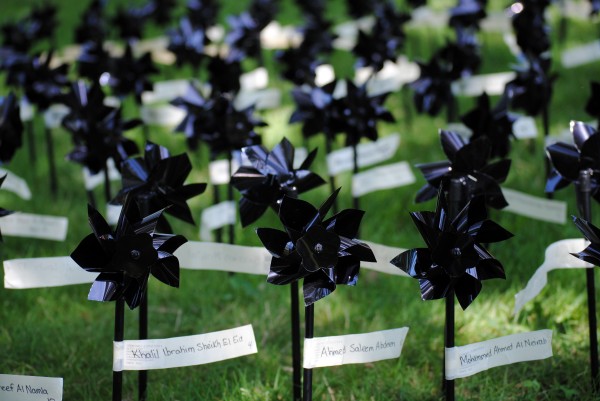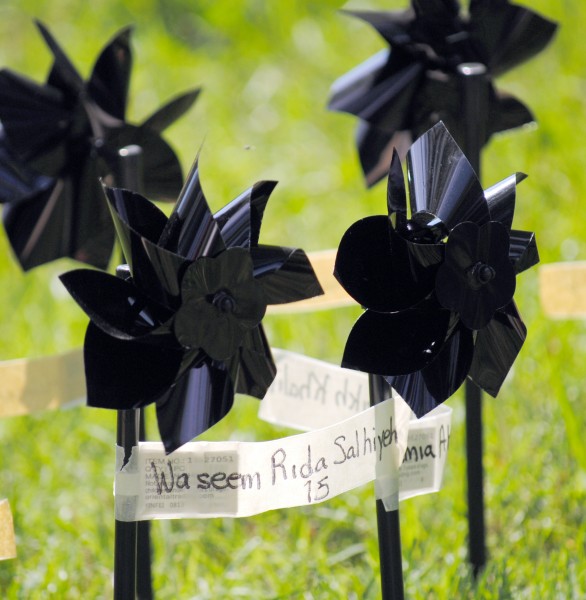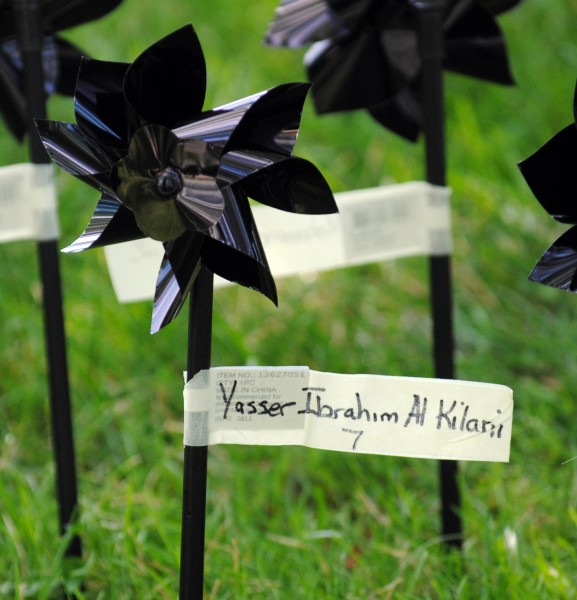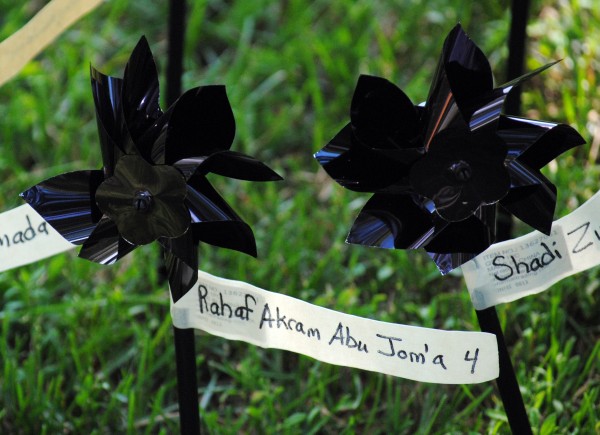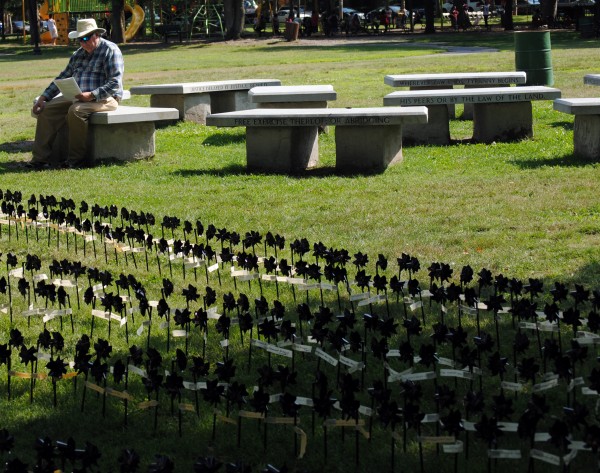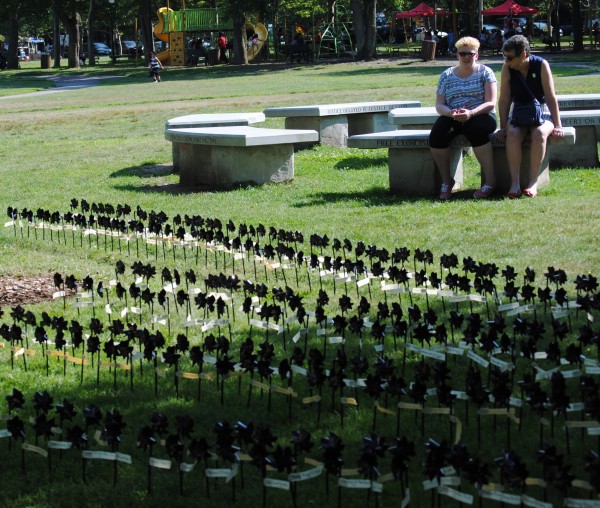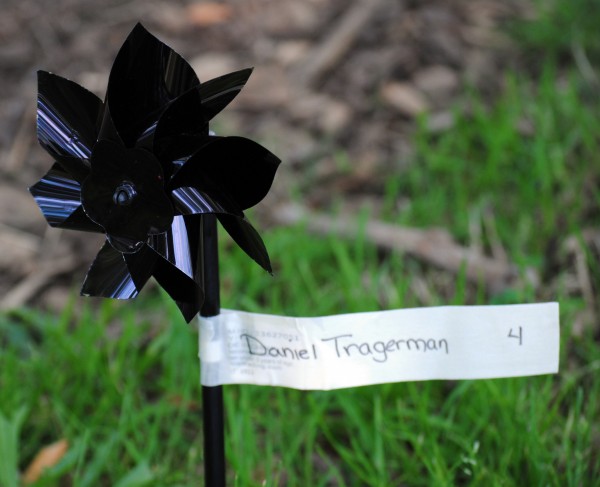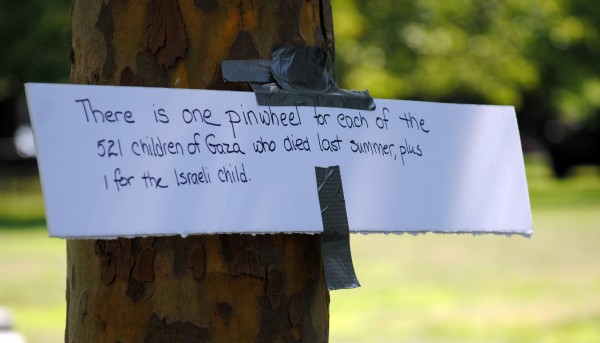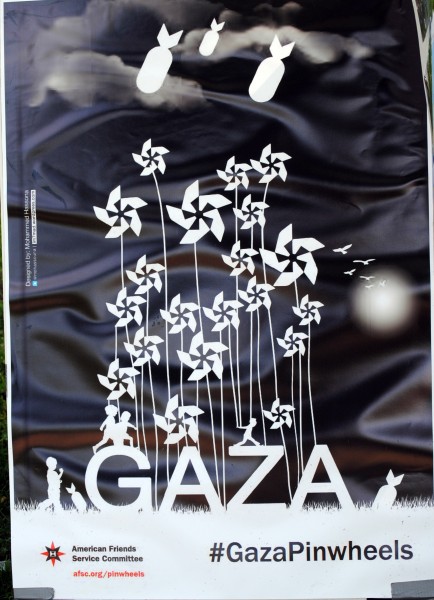 I wrote quite a bit about the local reaction to last year's devastating war in Gaza. Interested readers might check out:
Pro-Palestine rally and vigil in Burnside Park
Emergency Solidarity Rally in support of Israel
Two communities, two rallies, one war
Rally in Providence stands with peace
As the ceasefire fizzles: A rally for peace in PVD
Forum: Understanding the Israel-Gaza Crisis
Video: Common ground found at Israel/Gaza forum
Solidarity, from Ferguson to Palestine
---
Here is a complete list of names and ages of all 522 children being remembered:
Ahmad Nae'l Mahdi, 16, Hussein Yousef Kawari', 12, Basil Salem Kawari', 9, Abdullah Mohammed Kawari', 12, Qasim Jabr Odeh, 11, Seraj Iyad Abdel 'Al, 8, Mohammed Ali Kawari', 15, Mohammed Ibrahim Al Masri, 14, Aseel Ibrahim Al Masri, 15, Yasmin Mohammed Al Mutawaq, 3, Mohammed Mustafa Malaka, 2, Ameer Iyad Areef, 12, Mohammed Iyad Areef, 10, Nidal Khalaf Al Nawasra, 4, Mohammed Khalaf Al Nawasra, 2, Raneem Jawdat Abdel Ghafoor, 1, Sulaiman Saleem Al Astal, 17, Musa Mohammed Al Astal, 15, Meryam Atiyyeh Al 'Arja, 9, Abdullah Ramadan Abu Ghazal, 4, Abdel Rahman Bassam Khattab, 6, Saad Mahmoud Al Haj, 17, Fatima Mahmoud Al Haj, 14, Ismail Hasan Abu Jame', 17, Saher Salman Abu Namous, 2, Anas Yousef Qandeel, 17, Nour Marwan Al Najdi, 10, Safa Mustafa Malaka, 6, Anas Alaa' Al Batsh, 7, Manar Majid Al Batsh, 13, Marwa Majid Al Batsh, 7, Amal Bahaa' Al Batsh, 1.5, Qusai Issam Al Batsh, 12, Mohammed Issam Al Batsh, 17, Hossam Ibrahim An-Najjar, 15, Mu'ayyad Khalid Al A'raj, 2.5, Ziyad Maher An Najjar, 17, Sara Jehad Sheikh Al Eid, 4, Hamza Ra'ed Thary, 5, Ahed Attaf Bakr, 10, Zakariya 'Ahed Bakr, 10, Mohammed Ramiz Bakr, 11, Ismail Mohammed Bakr, 10, Ibrahim Ramadan Abu Daqqa, 10, Yasmeen Mahmoud Al Astal, 5, Hosam Mahmoud Al Astal, 8, Afnan Wesam Shuheebar, 8, Jehad Issam Shuheebar, 11, Waseem Issam Shuheebar, 8, Mohammed Ibrahim Intaiz, 13, Mohammed Salem Intaiz, 13, Yamin Riyad Al Hamidi, 4, Rahaf Khalil Al Jbour, 4, Mohammed Ismail Abu Msallam, 15, Ahmad Ismail Abu Msallam, 11, Walaa' Ismail Abu Msallam, 14, Mousa Abdel Rahman Abu Jarad, 8 months, Haniya Abdel Rahman Abu Jarad, 2, Sameeh Na'eem Abu Jarad, 1.5, Ahlam Mosa Abu Jarad, 17, Samar Na'eem Abu Jarad, 14, Qasim Hamed Ulwan, 4, Emad Hamed Ulwan, 7, Rezeq Ahmad Al Hayik, 1.5, Sara Mohammed Bostan, 10, Abdallah Jamal Al Smeeri, 17, Amjad Salim Shaath, 15, Faris Jom'a Al Tarabeen, 3 months, Omar Eed Al Mahmoum, 17, Seham Ahmad Zourob, 11, Mohammed Ziyad Al Rahl, 5, Mohammed Rafeeq Al Rahl, 17, Omar Jameel Hamouda, 10, Nagham Mahmoud Al Zweedi, 12, Ru'ya Mahmoud Al Zweedi, 6, Waseem Rida Salhiyeh, 15, Mohammed Bassam Al Sorri, 17, Mahmoud Anwar Abu Shabab, 16, Dina Omar Azeez, 5, Aya Bahjat Abu Sultan, 17, Khalil Usama Al Hayya, 5, Hamza Usama Al Hayya, 4, Amama Usama Al Hayya, 6, Marwa Suleiman Al Sirsawi, 12, Dina Adel Isleem, 3, Heba Hamed Al Shiekh Khalil, 14, Tala Ahmed Al I'tiwi, 10, Dina Rushdi Hamada, 16, Saji Hassan Al Hallaq, 4, Kenan Hasan Al Hallaq, 6, Mohammed Hani Al Hallaq, 2, Ibrahim Khalil Ammar, 13, Iman Khalil Ammar, 9, Asem Khalil Ammar, 4, Rahaf Akram Abu Jom'a, 4, Abdel Rahman Al Iskafi, 12, Marah Shakir Al Jammal, 10, Ahmed Sofyan Al Jammal, 9, Samia Ahmed Al Sheikh Khalil, 2, Shadi Ziyad Isleem, 16, Fadi Ziyad Isleem, 10, Ali Ziyad Isleem, 11, Mohammed Rami Ayyad, 3, Mohammed Ashraf Ayyad, 3, Najiyeh Jehad Al Helou, 15, Maram Ahmed Al Helou, 2, Kareem Ahmed Al Helou, 5 months, Karam Ahmed Al Helou, 5 months, Nirmeen Majid Daher, 10, Othman Raed Al Jammal, 11, Ghada Subhi Ayyad, 13, Azmi Khalid Badwan, 16, Sha'ban Jamil Ziyada, 12, Mohammed Ayman Al Sha'ir, 6, Heba Akram Al Sha'ir, 7, Razan Tawfeeq Abu Jame', 14, Jawdat Tawfeeq Abu Jame', 13, Aya Tawfeeq Abu Jame', 12, Haifaa' Tawfeeq Abu Jame', 9, Tawfeeq Tawfeeq Abu Jame', 4, Ahmed Tawfeeq Abu Jame', 8, Nour Eddin Tawfeeq Abu Jame', 4, Ayyoub Tayseer Abu Jame', 10, Nujoud Tayseer Abu Jame', 6 months, Fatima Tayseer Abu Jame', 8, Rayan Tayseer Abu Jame', 2, Rinad Tayseer Abu Jame', 1.5, Batoul Bassam Abu Jame', 4, Suheila Bassam Abu Jame', 2, Bisan Bassam Abu Jame', 1, Sajed Yasser Abu Jame', 7, Seraj Yasser Abu Jame', 4, Sarraa' Yasser Abu Jame', 3, Hosam Hosam Abu Qeenas, 7, Anas Mahmoud Mu'ammar, 17, Abdallah Yousef Daraji – Al Moghrabi, 2, Mohammed Rajaa' Handam, 15, Yasmin Nayif Al Yazji, 4, Hatem Nayif Al Yazji, 3, Arwa Yasser Al Qassas, 4, Samar Yasser Al Qassas, 3, Israa' Yasser Al Qassas, 7, Yasmeen Yasser Al Qassas, 10, Nesma Iyad Al Qassas, 10, Lamya Iyad Al Qassas, 13, Yasin Ibrahim Al Kilani, 9, Yasser  Ibrahim Al Kilani, 7, Sawsan  Ibrahim Al Kilani, 11, Reem Ibrahim Al Kilani, 12, Ilyas Ibrahim Al Kilani, 4, Dana Mohammed Daher, 1, Abdallah Abu Hjayyir, 16, Alaa' Abdel Majeed Abu Dahrouj, 17, Othman Salim Bree'im, 17, Fadi Azmi Bree'im, 17, Abedl Rahman Awad Al Qarra, 17, Ghaidaa' Nabil Siyam, 7, Mustafa Nabil Siyam, 9, Abdel Rahman Nabil Siyam, 6, Dalal Nabil Siyam, 9 months, Ahmed Ayman Siyam, 15, Ameen Ayman Siyam, 17, Iyad Mohamemd Sabbah, 17, Fatima Ahmad Al Arja, 16, Mona Rami Ikhriwat, 1.5, Shahd Mu'een Qishta, 9, Mohammed Ahmad Al Baddi, 3 months, Mahmoud Ahmad Al Qassas, 10, Abdel Nasser Sa'di Meslih, 17, Nour Ra'ed Abu Hwishil, 6, Obaida Fadel Abu Hwishil, 9, Ibtihal Ibrahim Al Rmahi, 3, Iman Ibrahim Al Rmahi, 15, Wesam Alaa' Al Najjar, 17, Mu'een Mohammed Siyam, 5, Khalaf Atiyeh Abu Snaimeh, 16, Rabee' Qasim Abu Ras, 9, Salma Rajab Al Radee', 6, Ayman Adham ElHaj Ahmad, 16, Hazem Na'eem Aqil, 15, Rawan Ayman Sweedan, 7, Jana Rami Al Maqat'a, 3, Mohammed Mansour Al Bashiti, 7, Zeinab Safwat Abu Teer, 4, Mohammed Akram Abu Shaqra, 17, Mohammed Na'eem Abu T'eema, 12, Adham Ahmad Abu Eeta, 4, Hadi Abdel Hameed Rab El-Nabi, 3, Abdel Rahman Mahmoud Rab El-Nabi, 1, Mohammed Jehad Matar, 12, Amna Jehad Matar, 11, Do'aa Ra'ed Abu Odeh, 17, Meryam Shayboub Al Shinbari, 11, Abed-Rabbo Shayboub Al Shinbari, 16, Ali Shayboub Al Shinbari, 9, Abed-Rabbo Jamal Al Shinbari, 17, Soha Abed-Rabbo Meslih, 2, Mohammed Akram Al Kafarneh, 15, Mahmoud Ismail Al Astal, 17, Nada Tha'ir Al Astal, 5, Ameen Tha'ir Al Astal, 4, Anas Hatim Qdeeh, 7, Mahmoud Sulaiman Al Astal, 17, Ahmad Mohammed Al Najjar, 17, Mahmoud Jehad Abdeen, 12, Nabil Mahmoud Al Astal, 13, Ameer Adel Siyam, 12, Mohammed Ahmad Siyam, 7, Ibrahim Abdel Rahman Al Sama'neh, 17, Waleed Sa'ad Al Harazeen, 8, Abdel Kareem Anwar Al Darazeen, 5, Mohammed Anwar Al Darazeen, 3, Nour Mohammed Abu Dbagh, 12, Ahmad Ramzi Abu Qadous, 13, Walaa' Mohammed Al Qabid, 15, Ahmed Mohammed Al Qabid, 11, Ahmed Waleed Sammour, 9, Hadi Salah Abu Hasanein, 12, Abdel Azeez Salah Abu Hasanein, 14, Do'aa Sami Sa'ada, 11, Anwar Abdel Qader Younis, 2, Ameer Hamoudeh Abu Shahla, 2, Islam Hamoudeh Abu Shahla, 3, Ameera Hamoudeh Abu Shahla, 1, Samir Hussein Al Najjar, 1.5, Mutaz Hussein Al Najjar, 6, Ghaliya Mohammed Al Najjar, 1.5, Bara'a Salah Al Riqib, 11, Rawan Khalid Al Najjar, 17, Ahmad Khalid Al Najjar, 14, Hadi Suleiman Al Najjar, 7, Yousef Jamil Hamouda, 15, Fadi Salim Baraka, 14, Sameeh Jibreel Jneed, 5, Yousef Emad Qadoura, 11, Hind Emad Qadoura, 10, Mohammed Mousa Olwan, 9, Yousef Abdel Rahman Hassouna, 11, Mahmoud Hazim Shbeer, 12, Ahmed Hazim Shbeer, 10, Jamal Salih I'lyan, 8, Bara' Akram Meqdad, 7, Mohammed Nahidh Meqdad, 13, Ahmed Jaber Washah, 10, Mohammed Mahmoud Abu Shaqfeh, 7, Mohammed Emad Baroud, 10, Mansour Rami Hajjaj, 9, Abdel Samad Mahmoud Ramadan, 16, Hanan Salem Al Far, 15, Ali Hasan Al Howari, 11, Rami Khalid Al Riqib, 16, Hussein Yasser Abu Saqer, 16, Dalia Nader Al Agha, 17, Dina Nader Al Agha, 14, Iyad Nader Al Agha, 17, Fadel Nader Al Agha, 11, Tamer Ahmed Al Najjar, 16, Israa' Naeem Balata, 13, Alaa' Naeem Balata, 14, Yehia Na'eem Balata, 8, Hadeel Adbel Kareem Balata, 17, Mohammed Abdel Nasser Al Ghandour, 15, Jood Yousif Abu Eedeh, 8 months, Halima Mohammed Suleiman, 1.5, Baraa' Mohammed Suleiman, 6, Haneen Hosam Hamouda, 13, Rahaf Alaa' Abed-Rabbo, 2, Jamal Mohammed  Abed-Rabbo, 1.5, Ali Ahmed Shaheen, 16, Aya Ismail Al Batsh, 12, Mohammed Taleb Asaaf, 8, Osama Ahmed Al Helu, 5, Rahaf Mohammed Farahat, 1 month, Nada Izzo Al Ja'al, 2, Mohammed Raed Abu Jabr, 3, Sama Raed Abu Jabr, 1.5, Toqa Salah Abu Jabr, 1, Leen Anwar Abu Jabr, 2.5, Salma Anwar Abu Jabr, 1.5, Hala Ahmed Abu Jabr, 6, Reeham Taysir Abu Mashi, 14, Sara Ahmed Abdel Ghafour, 1, Samaa' Mohammed Al Najjar, 15, Mohammed Atta Al Najjar, 1, Rafeef Atta Al Najjar, 3, Mona Jehad Al Najjar, 1, Omar Waddah Abu 'Amer, 12, Abdel Ghani Waddah Abu 'Amer, 11, Emad Waddah Abu 'Amer, 10, Issa Waddah Abu 'Amer, 8, Ez Eddin Waddah Abu 'Amer, 4, Mohammed Ahmed Abu 'Amer, 12, Marah Ahmed Abu 'Amer, 10, Yasser Ahmed Abu 'Amer, 9, Marwa Ahmed Abu 'Amer, 5, Suleiman Ahmed Abu 'Amer, 2, Mohammed Jamil Al Najjar, 12, Layali Wael Al Najjar, 2, Jana Fayiz Breeka, 3, Lama Fayiz Breeka, 1, Osama Fayiz Breeka, 16,  'Hala Ahmed Mu'ammar, 2, Yazan Ahmed Mu'ammar, 3, Aya Sami Al Ramlawi, 9, Mos'ab Ahmed Islaih, 17, Mohammed Mustafa Abu Hammad, 14, Mohannad Ashraf Al Qarra, 17, Zaher Mahmoud Al Najjar, 7, Abdallah Nidal Abu Zaid, 4, Shama Wael Abu Zaid, 16, Bisan Iyad Abu Zaid, 12, Mohammed Omar Dheer, 10, Maria Omar Dheer, 12, Tasneem Mohamed Dheer, 8, Mu'min Omar Dheer, 9, Ghaidaa' Omar Dheer, 7, Salama Mahmoud Dheer, 12, Mohammed Mahmoud Dheer, 7, Arwa Mahmoud Dheer, 16, Yamin Omar Dheer, 5, Ibrahim Ahmed Al Hashash, 15, Bilal Ahmed Al Hashash, 16, Alaa' Bahaa' Al Ghareeb, 16, Alaa' Ramadan Khader Salman, 17, Osama Mohammed Sihweel, 17, Sujoid Abdel Hakim Olwan, 11, Lama Ahmed Al Khalili, 5, Deema Ashraf Al Khalili, 4, Ziyad Ashraf Al Khalili, 3, Leena Alaa' Al Silik, 9, Omniya Mohammed Al Silik, 8, Malak Jalal Al Silik, 7, Abdel Azeez Mohammed Al Silik, 3, Abdel Haleem Mohammed Al Silik, 5, Abed Wael Al Shamali, 16, Shaimaa' Ibrahim Al Sheikh Ali, 1 week, Mohammed Ibrahim Abu Khousa, 1, Shahd Ibrahim Abu Khousa, 10, Yazan Emad Abu Khousa, 3, Retal Basheer Abu Khousa, 1, Mohammed Mohammed Abu Shamala, 9, Ibrahim Mu'tasim Kalloub, 4, Mohammed Akram Al Smiri, 14, Ibrahim Akram Al Smiri, 10, Asmaa' Abdel Haleem Abu Al Kas, 15, Mayar Jamal Abu Msabeh, 10, Salah Mousa Hejazi, 8, Layan Nael Al Silik, 3, Ola Jalal Al Silik, 15, Nour Ezz Al Ja'al, 5, Hosam Ra'fat N'eem, 16, Mahmoud Ashraf Al Khalili, 7, Hadeel Amer Al Bayoumi, 14, Aseel Amer Al Bayoumi, 16, Hasan Mohammed Al Bayoumi, 14, Rinad Ashraf Al Assar, 1.5, Lama Ra'fat Al Assar, 7, Malak Shakir Abu Shouqa, 2, Mohammed Ammar Shalat, 10, Faris Mohammed Siyam, 11, Othman Fawzi Abdeen, 17, Ahmed Saleem Abdeen, 17, Sama Nael Al Birrawi, 10 months, Fayiz Tareq Yaseen, 16, Mohammed Ahmed Al Neirab, 14, Mu'men Ahmed Al Neirab, 8, Mahmoud Ahmed Al Neirab, 10, Lujayn Basim Al Farra, 4, Abdel Rahman Basim Al Farra, 8, Nadeen Mahmoud Al Farra, 16, Mohammed Mahmoud Al Farra, 12, Yara Mahmoud Al Farra, 8, Maysoun Ra'fat Al Breem, 7, Haytham Ahmed Al Smeeri, 12, Raneen Ali Al Qarra, 15, Fadi Nasser Al Qawasmeh, 17, Omar Shakir Barbakh, 15, Mu'tasim Mohammed Al Najjar, 12, Nagham Shareef Al Namla, 10, Jehad Suleiman Abu Omran, 12, Khalil Ibrahim Sheikh El Eid, 4, Aya Ibrahim Sheikh El Eid, 5, Abdel Kareem Ibrahim Sheikh El Eid, 2, Hala Bassm Madi, 3, Jana Bassm Madi, 2, Yousef Ahmed Madi, 3, Ibrahim Anwar Al Sha'er, 16, Emad Ahmed Ahmed, 17, Yehia Salim Al Tarabin – Al Mahmoum, 13, Do'aa Mustafa Al Mahmoum, 4, Bisan Mustafa Al Mahmoum, 12, Heba Mustafa Al Mahmoum, 9, Obada Mustafa Al Mahmoum, 2, Asmaa' Salim Al Tarabin – Al Mahmoum, 16, Ibrahim Suleiman Al Masri, 5, Khalid Suleiman Al Masri, 4, Mohammed Ahmed Abu Sha'ar, 17, Anas Ibrahim Hammad, 4, Mohammed Anas Arafat, 5 months, Ameer Ra'fat Zorob, 15, Odai Ra'fat Zorob, 13, Shahd Ra'fat Zorob, 10, Khalid Ra'fat Zorob, 8, Ahmed Mustafa Zorob, 15, Mohammed Musrafa Zorob, 12, Waleed Mustafa Zorob, 6, Mu'tasim Musrafa Zorob, 2, Rawan Nash'at Siyam, 8, Rami Nash'at Siyam, 15, Ameen Yousef Abu Madi, 8, Yousef Shadi abu Madi, 7, 'Hala Shadi Abu Madi, 10 days, Aseel Sofyan Ghaith, 3, Nour Mohammed Abu 'Assi, 1 month, Haitham Yasser Abedl Wahab, 15, Ayman Yasser Abedl Wahab, 13, Lama Yasser Abedl Wahab, 9, Mohammed Yasser Abedl Wahab, 2, Ibrahim Fathi Eeeta, 13, Ahmed Fathi Eeeta, 7, Mohammed Fathi Eeeta, 5, Ibtisam Bassam Al Neirab, 12, Doha Bassam Al Neirab, 15, Ola Bassam Al Neirab, 3, Mohammed Omar Salih, 17, Rana Raed Abu Suleiman, 10, Ahmed Rami Abu Suleiman, 2, Lama Rami Abu Suleiman, 3, Mohammed Rami Abu Suleiman, 11, Jana Rami Abu Suleiman, 3, Emad Naseem Saidam, 17, Mohammed Nidal Abu Mehsin -Al Nims, 17, Yousef Mahmoud Abu Taha, 16, Riziq Ismail Abu Taha, 1, Somoud Ahmed Al Roumi, 5, Ameen Ahmed Al Roumi, 15, Mohammed Shu'aib Al Bahabsa, 17, Rajab Abdel Rahman Al Shrafi, 9, Abdallah Abdel Hadi Al Majdalawi, 13, Rawan Ahmed Al Majdalawi, 9, Mahmoud Ahmed Al Majdalawi, 8, Ahmed Mohammed Abu Nijm-Al Masri, 17, Raghad Mohammed Nijm-Al Masri, 3, Shaimaa' Wael Qasim, 14, Remas Salem Khattab, 5, Tareq Eid Abu Mashi, 12, Dalia Atwa Khattab, 13, Ismail Wael Al Ghoul, 14, Mustafa Wael Al Ghoul, 1 month, Malak Wael Al Ghoul, 6, Mahmoud Mohammed 'Okal – Hejazi, 9, Mohammed As'ad  'Okal – Hejazi, 10, Aya Mohammed Abu Rijl, 3, Monthir Mohammed Abu Rijl, 6, Saqr Bassam Al Kashif, 7, Tareq Ziyad Abu Khatleh, 15, Amr Tareq Abu Al Roos, 15, Ahmed Khalid Abu Harba, 14, Yousef Akram Al Iskafi, 16, Ismail Sameer Shallouf, 17, Muneer Khalil Abu Dbaa', 14, Maria Mohammed Abu Jazar, 2, Firas Mohammed Abu Jazar, 2, Nour Bahjat Wahdan, 2, Ghena Younis Saqr, 2, Ahmed Hatim Wahdan, 13, Hussein Hatim Wahdan, 9, Aseel Mohammed Al Bakri, 4, Asmaa' Mohammed Al Bakri, 4 months, Mohammed Amjad Uwaida, 13, Amal Amjad Uwaida, 5, Hammam Mohammed Abu Suheeban, 11, Kamal Ahmed Al Bakri, 4, Khalid Ziyad Al Hindi, 15, Osama Hussein Lafi, 11, Ibrahim Ahmed Al Najjar, 16, Ibrahim Zuheer Dawawsa, 10, Bilal Bassam Mish'al, 15, Mahmoud Maher Hassan, 14, Mahmoud Mohammed Abu Haddaf, 8, Mahmoud Khalid Abu Haddaf, 15, Aya Anwar Al Sha'er, 13, Ez Eddin Saleem Abu Sneima, 12, Ahmed Mohammed Al Masri, 14, Maidaa' Mohammed Aslan, 1.5 month, Ali Mohammed Daif, 7 months, Mustafa Rabah Al Dalu, 14, Sara Mohammed Daif, 2, Nour Mahmoud Abu Haseera, 2, Maysara Ra'fat Al Louh, 10, Farah Ra'fat Al Louh, 7, Mustafa Ra'fat Al Louh, 6, Saher Mohammed Al 'Abeet, 11, Mohammed Emad Al 'Abeet, 15, Iman Younis Al Louh, 17, Hassan Srour Tamboura, 13, Abdallah Tareq Al Reefi, 6, Ziyad Tareq Al Reefi, 13, Omar Nasser Al Reefi, 4, Raed Ahmed Khdair, 5, Mohammed Hamdi Salim – Abu Nahl, 17, Mahmoud Tal'at Abu Shreetih, 13, Ahmed Nasser Kellab, 17, Yousef Nasser Kellab, 15, Abdallah Nasser Kellab, 9, Seba Rami Younis, 4, Abdallah Shehda Abu Dahrouj, 3, Abdel Hadi Shehda Abu Dahrouj, 2, Badr-Eddin Hashim Abu Mnee', 17, Mohammed Wael Al Khodari, 16, Zeinab Bilal Abu Taqiya, 1, Hussein Khalid Ahmed, 8, Tasneem Issam Joudeh, 14, Raghad Issam Joudeh, 12, Mohammed Issam Joudeh, 8, Osama Issam Joudeh, 6, Ahmed Radad Tanboura, 15, Amna Radad Tanboura, 13, Lama Khader Al Nabeeh, 4, Omar Hosam Al Breem, 16, Mohammed Hosam Al Breem, 13, Daniel Tragerman, 4
Pinwheels for Gaza

,