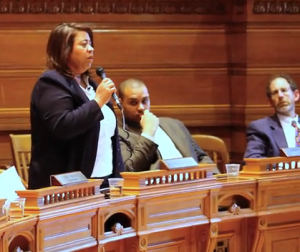 "In a day and age when most politicians are lawyers or businessmen, Councilwoman Carmen Castillo made history when she became the first hotel housekeeper to hold public office," writes independent filmmaker Margo Guerney, who is making a documentary about the groundbreaking Providence city councilor.
Castillo, who was elected in 2012, has worked as a room attendant at the Westin Hotel for 17 years. She moved to Providence 20 years ago with her three daughters from the Dominican Republic. Her Facebook page has more links to food drives than fundraisers. She certainly a stereotypical politicians.
That's why Guerney, a veteran documentary filmmaker, will spend the next three years making a feature length movie about Castillo and her pioneering efforts in elected politics.
Guerney writes:
How does Castillo's role as a room attendant who is also a  lawmaker push our understanding of who should set policy?  Can local communities successfully fight for good jobs and resources?  What is it like behind the scenes at City Hall?

Castillo is one of many fighting for justice in her community. The film will introduce others who are part of efforts to bring justice and good jobs to the neighborhood, and will explore the challenges and issues they all face. Above all else, this is a film about our democracy: who gets to participate and on what terms.
You can – and should – support this effort on Kickstarter here. We definitely want the world to know these efforts are happening in Providence, Rhode Island. And even more importantly, why such efforts matter.
"Can you imagine how public policy would change if more elected officials were low wage workers?" Guerney asks in the video below. "That's what this film is about. Who can participate in our democracy and are their limitations. Is Carmen pushing those limits? "We talk a lot about voting rights. But what about the ability to run for office? Who really has that ability?"