Tuesday Dec 3, 2013
North Kingstown, RI – Good morning, Ocean State. This is Bob Plain, editor and publisher of the RI Future blog podcasting to you from The Hideaway on the banks of the Mattatuxet River behind the Shady Lea Mill in North Kingstown, Rhode Island.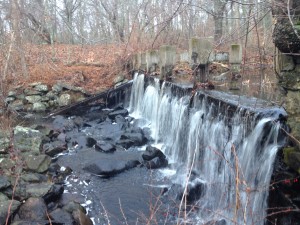 It's Tuesday, December 3rd, the day Detroit will, or won't, officially file for bankruptcy protection … and, in local news, Brett Smiley is formally announcing he's running for mayor of the Capital City today. Check out the About page on his website and you'll see there is little doubt he sees himself as the progressive in the crowded field for mayor…
Brett will be joining Mark Gray and I for our first roundtable podcast on Thursday afternoon … if you'd like to join us, or have a question for Brett, reach out on twitter and/or Facebook….
And speaking of being mayor and running for office, current Providence Mayor Angel Taveras is scheduled to join the URI Honors Colloquium tonight on great public schools tonight … more on this developing story later this morning. The URI Honors Colloquium has already hosted such education experts as Diane Ravitch and Henry Giroux, and us progressives are sure looking forward to hearing what Mayor Taveras adds to this ongoing debate….
UPDATE: According to the Honors Colloquium, Taveras' appearance has been canceled for tonight. "the Mayor expresses his sincere apologies for not being able to attend," said his communications director, David Ortiz. "He had a scheduling conflict."
Pension detective Ted Siedle is petitioning the Securities and Exchange Commission to investigate pension fund investments overseen by General Treasurer Gina Raimondo. Siedle says that some investment agreements essentially allow hedge fund managers to "steal from the state" by hiding information from the public that they are expressively allowed to share with other investors.
Raimondo's office responded by calling the accusation a political attack. Yes, it is true, the retirees whose savings Raimondo slashed definitely have a political interest in her not becoming governor … the more pointed question she should respond to: do some state investment agreements allow managers to share information with other investors while shielding it from the citizens of Rhode Island. Because all of Rhode Island may not want the person who negotiated that deal to be our next governor…
Seidle told the Providence Journal: "What I have done for Rhode Island is to draw attention to the other side of the balance sheet, the other side of the income statement, which is how much has been paid to Wall Street."
Steve Ahlquist offers a good government reason why Rhode Island should NOT have a Constitutional Convention in 2015. In an RI Future post published this morning, he says "Con-Con" delegates are elected for the singular purpose of amending the state Constitution, and thus aren't accountable to any future voters.
"This is the wrong way to effect change," writes Ahlquist. "Right now, the General Assembly can be held accountable by voters: If you don't like the way they are behaving, you can remove them from office by voting for their opponents in the next election. The Con-Con delegates, on the other hand, have no such accountability. Delegates, unconcerned with being re-elected, can suffer no penalty for failing voters. Delegate candidates could conceivably run as moderates and then work to effect radical changes once elected."
Senator Sheldon Whitehouse held a summit on health care yesterday and said Rhode Island is proving to be a stellar example to the rest of the nation in how to deliver better and more efficient benefits to people in the 21st Century. Similarly, a new report says the Ocean State is poised to be a national leader in solar power … in other words, Little Rhody shines when it comes to health care and renewable energy sectors of the economy … that's called being well-situated for the future. Go Rhody!
A 38-year-old truck driver was ordered to pay the Koch bros company $180,000 because he participated in an organized hack on the right-wingers site … Koch Industries is located in Wichita, Kansas and so was his trial. The website was down for 15 minutes and the company said it lost $5,000 as a result…
On this day in 1886, textile workers in Fall River fought for and won … a 10-hour work day.
And in 1910 … the International Workers of the World, also known as the Wobblies, organized their first loggers union … speaking of organized labor in the timber industry, if you've never read Ken Kesey's classic "Sometimes A Great Notion," it's a fantastic parable on team work and the dangers of thinking you're above it. This is one of my favorite and most disturbing movie scenes of all-time:
Publisher Andres Shifflin has died … he founded The New Press after being fired from a Random House-owned company for not making enough money. He published the leftists works of Noam Chomsky and Studs Terkeland said his firing was essentially corporate censorship.
And one-hit wonder reggae singer Junior Mervin died yesterday … he wrote "Police and Thieves," about senseless street violence … it became a hit for punk band The Clash, and turns out it's just as relevant the 21st century United States as it was to 20th century Jaimaca and London.