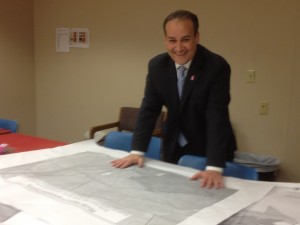 So, Politico's Steve Friess published a story today about a phenomenon about the Gemma campaign I pointed out on March 20th. I've sworn off on saying anything more about Mr. Gemma, I'll let other writers for RI Future and the rest of Rhode Island's chattering class cover it
I also want to take the time to give credit elsewhere; I didn't discover these social media oddities, a friend's friend did, and I was alerted about it and went digging. Luckily RI Future's editor, Bob Plain, had already been looking into it as well and provided me the screen shots and the other information he had. It's a testament to him that he let me run with it.
That highlights that even our master strokes tend to come from elsewhere. Mr. Friess' story is a brilliant piece of work, taking from my initial piece to picking up on WPRI's Ted Nesi's July 19th piece about the now-abandoned Twitter handle @gemma4congress. Mr. Friess has access to social media research that I simply didn't on March 20th, and couldn't access today. Now, as a result of the Politico piece, RIPR and even the The Providence Journal has covered the action (in fairness, their PoliFact RI arm had looked into issues about Mr. Gemma's LinkedIn account last election cycle).
What bothers me is that it took so long for local media like The Journal to pick up on this story. We broke this in March, The Phoenix's Phillipe and Jorge mentioned it, WPRO's Dan Yorke talked with Bob about it soon after, and then nothing until Mr. Nesi got tweeted at by whatever script was operating @gemma4congress (though Twitter was a bit more alive about it in March, if my recollections are correct). Perhaps it was the tone of my piece, or perhaps because Mr. Gemma had not made an official announcement at that point. Perhaps because I was willing to give Twitter the benefit of the doubt then.
Regardless, we broke this in March. It is July now. That's the kind of news you can expect from RI Future. We cannot be everywhere. None of us get paid to do this. We're the news that lives like you. Yet what we get is important, it matters. That same ability is going to be applied to the primaries and the general election. It's going to be applied to races for the General Assembly. We face a lack of resources (I, for instance, commute to work by foot). Yet what we bring you will be strong.
I lacked the ability to take this story all the way; Mr. Nesi pushed it forward, and then Mr. Friess got it to where it is today (by not only providing social media research on Mr. Gemma alone, but doing the due diligence that an amateur like myself wouldn't think of and looking into the surrounding organizations). It's great when a small outfit like ours can toss the ball to a stronger outfit and then it gets passed to an even stronger one that can score big, like in a rugby game. Granted, I would've loved to have this all in March. But I also would've loved if this had happened sooner. It's 4 months from March to July. RI media could've been on this without Politico showing us the way.
But perhaps the timing wasn't right in March, coming as it did during a news lull; in contrast, shortly after Mr. Nesi mentioned his Twitter run-in with @gemma4congress, news broke about Mitt Romney having suspiciously inflated Twitter numbers. Perhaps that's what finally made this matter. Oh well, next time, RI media, next time.
Politico Shows Why RI Future Matters

,