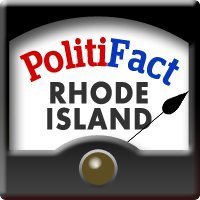 Earlier this week I posted about Brendan Doherty playing fast and loose with facts and pegged it to two Politifact pieces that gave him "mostly false" grades. Then Politifact did a little additional research and reversed its ruling.
We're not reversing our assertion though. While we agree that Dan McGowan did a better job of vetting all the facts than did the ProJo's initial piece, that has no bearing on our premise that Doherty isn't being completely honest.
Whether or not the loan in question was repaid by the borrower, a third party, an act of god or god herself, the loan was repaid. Not in full, mind you, but to the satisfaction of the lender. If Warren Buffett decides to paid my mortgage, I don't owe that money any more and I've made good on my debt. There's no asterisk on my credit score. In other words, it's not how a debt gets repaid that determines the borrowers standing but that it gets repaid.
But, really, that's just a technical detail that doesn't speak to Doherty's honesty.
His campaign was pretty clearly trying to imply that David Cicilline's administration had forgiven a loan awarded to a campaign supporter. Given that it's always hard to prove a negative, the onus is on the Doherty camp to back up this seemingly unsubstantiated assertion. Until that happens, I find it to fall far short of being true. It doesn't even meet the Stephen Colbert standard of truthiness.
Politifact was right to reexamine its ruling but not to reverse it.
Politifact Reverses Ruling, But Doherty Still Deceived

,