I was going to write about this this weekend, but the Huffington Post beat me to it.
PolitiFact is well-known nationally for its conservative bias. In Rhode Island, where PolitiFact has partnered with the right of center Providence Journal, this bias was recently on full display. Recently, they went after David Cicilline for saying on Newsmakers that the Social Security payroll tax is currently assessed on about 83 percent of income, down from a peak of "approximately 90 percent of the income generated in this country…which was sort of where it has been historically."
This is true. Even PolitiFact admits that both numbers are correct. In order to justify a "mostly false" rating, they claim that Cicilline's muttered qualifier, "sort of where it has been historically," amounted to saying that 90 percent was the historical average, not the peak. That sort of unreasonable quibbling could arguably justify a "mostly true." But there really is no defending a "mostly false" rating.
In fact, PolitiFact was guilty of some misleading of their own. The percentage of earnings taxed started at 92 when the program was implemented in 1937, dipped down to a low of 71 in 1965, and rose to a peak of 90 in 1982 and 1983. It has since declined to 83 percent. In their quest for a "mostly false," PolitiFact neglected to mention the fact that the figure started at 92 percent, giving the impression that 90 percent was the all-time peak, instead of the closest the income percentage ever came to returning to its starting point.
The cap on social security taxes is one of the most regressive features of America's tax system. To help address this, Obama added a 0.9 percentage point high-income surcharge on the Medicare tax and cut the Social Security tax by two points. Here's what that looks like in chart form: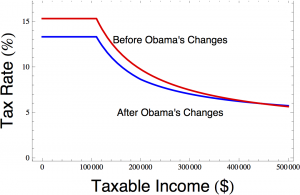 Sadly, this pro-growth, highly progressive Social Security tax cut recently expired, falling victim to austerity politics.
PolitiFact RI once again shows right-wing bias

,