Several hundred people (including professionals, academics and students) gathered at the Rhode Island School of Design's Metcalfe Auditorium and witnessed the first-ever TEDx Providence event in the Ocean State on April 15. But at the end of the day, what does it really mean? One day after the historic event, I asked myself that very question and here's one person's take on that very question.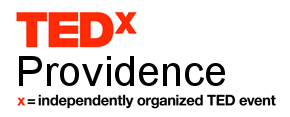 HOME TO INTELLIGENT CIVL DIALOGUE CALLING FOR ACTION & KNOWN THE WORLD OVER
Providence (and Rhode Island) is becoming home to a number of events which serve three distinct purposes–
Coalescing positive elements (and by elements I mean people, who have created pockets of positive ecosystems here). Being positive in a place where cynicism has ruled the roost for so many years takes a lot of energy, time and commitment. Positive individuals NEED to have outlets to be around similarly positive people to gain support, recharge their psychic batteries and share their ideas and thoughts on improving our local community, and the world as a whole;
Having events which engage and welcome our student community is extremely important as we look for more of them to stay here upon graduation; and
TEDx Providence is now part of a growing list of exciting events which attract not only locals but which are also attracting individuals from around the world to come to Rhode Island (e.g., A Better World by Design, BIF Summit on Collaborative Innovation, MakerFaireRI, Social Venture Partners-Rhode Island SEEED Summit, our state's eight film festivals, the Newport Jazz and Folk Festivals, Bryant University's World Trade Day, etc.) to learn, network and dream big! Why is that important? Engaging with the world means just that, but first starts with welcoming individuals here. Not to sell them on our locale, but rather to show them them the talent that resides here and how we can help them achieve great success with our talent pool (and vice versa); that is the very essence of what engagement means.
ACKNOWLEDGING, HIGHLIGHTING AND LEVERAGING OUR WORLD CLASS TALENT IS ESSENTIAL
If you look at who presented at the inaugural TEDx Providence event…..I mean look at them–their life experiences, professional achievements and the impact they have had on the community….I can assure you of this–any community in the WORLD would love to have these individuals residing and working there. They represent the tip of the iceberg, but what sort of talent resides here! Professors who are great mentors; entrepreneurs who have contributed beyond the launch of their own ventures and work far beyond our borders; new arrivals to the state; new ideas being implemented that other communities around the world can learn from; and artists who exemplify innovation!
So, continue to watch out for such activities right here in your own backyard and get engaged!
Post-Script to TEDx PVD

,