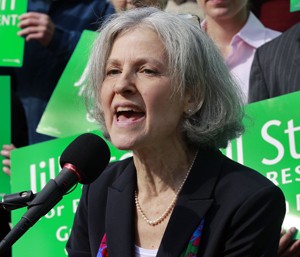 For those who want a female president, the easiest vote is for Hillary Clinton. For those who someone to the left of Hillary Clinton, there's Bernie Sanders. And for those who want a female president and someone to the left of Hillary Clinton and Bernie Sanders, there's Jill Stein, Green Party candidate for president.
Stein, a doctor from Massachusetts and the Green Party's standard bearer for the second election in a row, will visit the CCRI campus in Warwick on Saturday, August 22. She's the keynote speaker at the Green Gathering, an annual meeting of local Green Party members and supporters.
Unlike even Sanders, Stein offers a real alternative to mainstream political candidates. She endorses a $15 federal minimum wage, ending poverty by creating a job for everyone through a "Green New Deal." And she's been critical of campaigns like Sanders' which seeks to change the party from within.
"What Bernie is doing, speaking truth to power, is a wonderful thing," Stein said, according to ThinkProgress in June. "It's been done many times before within the Democratic Party. But one only has to look at the inspired campaign of Jesse Jackson to see where that goes. It's a wonderful flourish, but when it's over, it's over. And the party continues to march to the right. These reform efforts within the Democratic Party feel good for those who participate, but at the end of the day, they have not built a foundation for the future."
Stein will be joined by Sherrie Anne Andre, one of the FANG activists who have been fighting the expansion of methane gas in Rhode Island and David Fisher, a former Green Party candidate for mayor of Woonsocket, who will speak about local elections.
Here are the details of the Green Gathering, from Greg Gerritt:
2015 GREEN GATHERING, RHODE ISLAND

Saturday, August 22, 2015

11:00 AM – 2:00 PM

at the 

Community College of Rhode Island (Warwick) – Alumni Room

• Green Presidential Candidate Dr. Jill Stein will be Keynote Speaker
• Preview of Presidential, Legislative, Congressional Campaigns
• Guest speakers from the U.S., Canada, and Northern Ireland
• Workshops on Direct Action, LNG Resistance, and PawSox Stadium

WARWICK, RI – On Saturday, August 22, Rhode Island's Green Party will host "Green Gathering 2015," featuring guest speakers from the U.S., Canada, and Northern Ireland. Dr. Jill Stein, the Green Party candidate for U.S. president, will be keynote speaker. Sherrie Anne Andre, the environmental activist who protested the Burrillville compressor station with a tree-sit—and was promptly arrested—will address the Gathering, as will 2013 Woonsocket mayoral candidate Dave Fisher. The complete roster of speakers includes:

JILL STEIN, Presidential Candidate, Green Party of the United States

SHERRIE ANNE ANDRE, FANG-Fighting Against Natural Gas
"Climate Crisis, Direct Action, and the Greens"

DAVE FISHER, WPRO Radio Host, 2013 Green Candidate for Woonsocket Mayor
"The Power of Local Elections"

JOHN BARRY, Green Party of Northern Ireland (via Skype from Belfast)
"Greens Against Fracking in the UK and Ireland"

JEAN CLOUTIER, Green Party of Quebec (via Skype from Québec City)
"Green Energy in Canadian Politics"

International Speakers. Joining the Gathering via Skype, European Green Party leader John Barry of Belfast, Northern Ireland, and Canadian Green Party leader Jean Cloutier of Quebec City will report on latest developments in the struggle to end fracking and fossil fuel drilling in Canada and Europe.

Green Party policy and strategy 

will be the subject of two workshops, on "Global Warming & Nonviolent Direct Action in Rhode Island," and "LNG Resistance, the PawSox Stadium, and Green Campaigns in 2016."

Free on-site child care

 will be available for children under 10, provided by Imagine Preschool (CCRI's day care center). This is a brown-bag friendly event; bring your own lunch! The Green Gathering is free and open to the public.