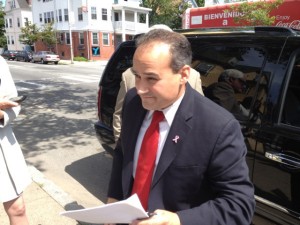 Anthony Gemma continues his scorched-earth quest for the Democratic nomination for Congress in District 1, and local reporters are helping to do the scorching.
Look at all the great headlines he's gotten out of allegations that amount to nothing:
Golocalprov.com: "Gemma Accuses Cicilline of Voter Fraud", "Cicilline Aides Named in Gemma's Accusations", "Gemma to Call on Cicilline to Resign Today."  Providence Journal: "Gemma sets up 'tip hotline' in voter fraud probe", "In secretly recorded video, an offer to deliver absentee ballot votes for money", "RI Congressional Candidate sent ballot fraud complaint to a campaign finance commission", "Republican congressional candidate Doherty 'troubled' by allegations against opponent Cicilline", "Gemma to detail findings at noon of probe into voter fraud", "Gemma campaign hired Warwick detective firm to look into voter fraud".
The morning after Gemma's press conference where he let these charges fly, the Journal actually had this headline:  "Gemma alleges voter fraud; Cicilline denies accusation."  This was after a press conference where not a shred of evidence was presented to make the link, despite a couple of weeks' worth of promises otherwise.
The stories behind these headlines did not appear out of the air, though lots of them did begin with press releases from the Gemma campaign. These stories were written by real writers, with real names, like Philip Marcelo, John Mulligan, Kathy Gregg, and Zachary Malinowski of the Providence Journal and Dan McGowan of golocalprov.com, Dan Jaehnig and Katie Davis of Channel 10, and more.
Let's be clear, too. There has been no evidence presented for these allegations beyond the allegations themselves. To me, they seem the invention of a few people who appear to want to seem like players, and relentlessly (and effectively) flogged by Gemma.
If you've been around politics in RI for any length of time, you've met some of these people. They want you to know how important they are and how worldly, i.e. cynical. They tell you fabulous stories about corruption and influence and the things they've seen that would curl your hair, and so on. The real purpose of these tales is not the transfer of information, but the aggrandizement of the teller in the eyes of the gullible. After all, only someone with connections would be privy to such wild tales.
In truth, I doubt that the reporters who have been writing these stories are all that gullible, but it is undeniable fact that the stories they have written and the headlines laid on those stories have abetted the dirty and unprincipled campaign strategy Anthony Gemma has chosen. He has successfully taken an idiotic story of no news value except as it reflects on his own judgment, and turned it into weeks of headlines. And it wasn't the partisan media — the John DePetros and Travis Rowleys of the state — who helped him most effectively. It was the leaders of the mainstream press who kept the story alive, teasing Gemma's "tell-all" press conference, broadcasting his videos, reprinting his press releases about how much he'd spent on the probe.  However skeptical they style themselves, they have done his bidding.
The allegations themselves are ridiculous. Please remember that the Mayoral elections in question, in 2002 and 2006, were not close races. In the 2002 Democratic primary, Cicilline won a clear majority in a 4-way race and went on to win the general election with 84% of the vote. In 2006 he faced only token opposition in the primary and general elections, and won 83% of the vote.  None of these outcomes were in any doubt at the time, though David Igliozzi, Keven McKenna, and Joe Paolino may remember the 2002 primary somewhat differently than I do.
The "Larger Story"
What of the larger story?  The idea that these allegations buttress what we already "know" about Cicilline's dishonesty?  These mostly stem from the chaos of Providence's budget during 2010, when the state slashed a tremendous amount of aid to the city in the final quarter of the fiscal year and when the City Council refused to ratify a budget until after some of the savings it anticipated were impossible to achieve.
I've looked into that story about David Cicilline's management of Providence's finances and found little there beyond widespread confusion about the difference between a budget reserve and a cash reserve, along with a collection of city and state officials who all saw political advantage in blaming the recently departed Mayor for problems most of them had a hand in creating.
There was also the matter of a single poorly chosen word by Cicilline who I choose to excuse for that because the cash reserves that got the city through its vicious cuts in state funding were built up under his administration. (Did you think they were a legacy of the Cianci years?)  I might not have used the word "excellent", but I do think it obvious that only a city in good financial shape could have gotten through the "Category 5" fiscal storm created by those aid cuts in 2008, 2009, and 2010.
What's more incredible to me is that all the criticism revolves around the claim that Mayor Cicilline should have raised taxes sooner and farther, the "hard choices" recommended by former Carcieri aide Gary Sasse who was commissioned by the City Council to write a report about the issue. I'm certainly not going to defend every decision Cicilline ever made, but people who imagine his mandate did not involve holding the line on property taxes by any means at hand are apparently living on a different planet than me. He held taxes down, and now gets blame for that?  The fact remains that David Cicilline has been tarred far beyond his share in order that the people actually responsible for Providence's troubles can evade blame.
We've seen this show before
 What's going on here is only slightly different than the way the mainstream press invented all the narratives about Al Gore's "lies" in 1999 and 2000, and then allowed George Bush and the partisan media to take advantage of them. You know the list, about the
internet, Love Story
,
Love Canal
, and all the rest. Each of those was an invention of writers at the New York Times, the Washington Post, and the Associated Press. All the Bush campaign had to do was gently pile on, which they happily did.
In almost exactly the same way, what's happened here is that reporters have taken claims by interested parties — Providence City Council members, General Assembly insiders, ex-Governors and members of their staff — at face value, and helped invent a narrative about a dishonest Cicilline. These were all people who played a part in Providence's fiscal nightmare, but by deflecting blame to the former Mayor, they can avoid it themselves. Anthony Gemma has been astute and unprincipled enough to see that he could profit by buttressing that narrative.
Why is that unprincipled?  Consider the claim that Gemma cares one wit about the nation's economy, the state's jobless, Social Security, the air we breathe, the availability and cost of health care (including abortion and contraception), and all the other actual issues in question during this election. Gemma claims to hold views about these issues in direct opposition to the national Republican party, whose well-funded representative the winner of next week's primary will face.
There's a balancing test here. On the one hand, Gemma might actually care about the issues before Congress more than he cares about further damaging David Cicilline's reputation and future. He might think that taking a step towards a more rational and affordable health care system is more important than what appears to be his own irrational hatred of Cicilline. On the other hand, he might not. The evidence of his actions says he cares more about the personal than the policy, and that, it seems to me, is the very definition of unprincipled.
Local Media Enabled Gemma's Recklessness

,