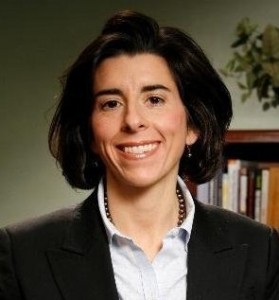 You may have heard about our recent letter to General Treasurer Gina Raimondo requesting that she return an award from The Manhattan Institute, an extremist right wing group that promotes offensive, ignorant and hurtful positions towards the LGBTQI community, women, minorities, and our environment.
Marriage Equality Rhode Island was among a group of organizations that respectfully asked Treasurer Raimondo to return the award and condemn the hateful positions promoted by the Manhattan Institute. Instead of returning the award, she defended her association with the New York think tank by saying: "Accepting an award from any organization is never an across-the-board endorsement of its leanings."  But that just misses our point.
Organizations like the Manhattan Institute use awards programs for many purposes, including raising money and validating their positions on a range issues to a broader, mainstream audience.  A cursory review of the Manhattan Institute's website will, in fact, lead one to a number of articles and position papers that advance an anti-gay agenda and misogynistic agenda.
As LGBTQ people we know the power in who you will or won't stand next to you. We know that standing for equality and fairness means refusing to stand next to ignorance and hatred. Raimondo's close association with this organization could be interpreted by many as implicit acceptance of all their positions, not just those related to public pensions. We have advised the treasurer that those who aspire to political leadership are judged by the company they keep. Principles are worth far more than political accolades.